Contact lenses are an easy and affordable way to enjoy comfortable vision. But which kind of contact lenses are right for your eye health issues? Contact lens technology continues to improve dramatically offering wearers of a vision type the opportunity to experience glasses-free vision. Thanks to continued progress in contact lens material advancements, people with Astigmatism, Myopia can even enjoy the benefits of contact lenses.
Here is a helpful contact lens guide to help you choose the right pair for your vision.
Contact Lens Materials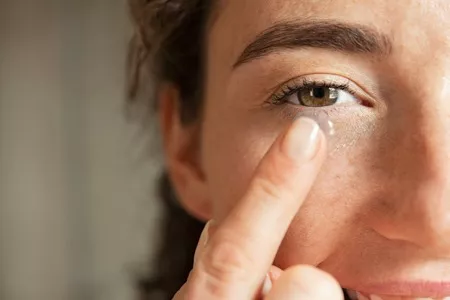 There are several choices when it comes to contact lens material. Each type of lens is designed to accommodate different vision types. Finding the right kind of contact lens material will help you get the perfect fit and most comfortable vision.
These are the most common contact lens types. Made from hydrogels, these contact lenses are thin and flexible allowing them to gently fit the eye's surface.
Rigid Gas Permeable (RGP) Contact Lenses
Rigid gas permeable contact lenses are designed to correct astigmatism. The lens is less flexible, keeping its shape to correct refractive errors. They are made from oxygen-permeable material to ensure comfort and adaptability.
Silicone Hydrogel
Created using advanced comfort technology, these advanced soft contact lenses allow for more flexibility, allowing more oxygen to pass through the lens and reach the eye.
Hybrid Contact Lenses
The perfect combination of visual clarity and comfort, hybrid contact lenses are made with a rigid gas permeable central zone, sounded by a hydrogel or silicone hydrogel "skirt", which provides wearers with the most comfortable vision experience.
Extended Wear Contact Lenses
Thinner than traditional contact lenses, extended-wear contacts are made from silicone hydrogel that allows the eyes greater breathability and comfort. Unlike disposables, extended wear contact lenses can be cleaned and worn for several days.
Disposable (Replacement Schedule) Contact Lenses
Disposable contact lenses are a single-use solution to wearers who want an easy and cost-effective option for their vision needs. Rather than cleaning and reusing the contact lenses, disposables are discarded at the end of the day and a new pair inserted the next morning.
At What Age Can I Start Wearing Contact Lenses?
Contact lenses are designed to be worn by patients as young as 8 years old. The FDA recommended that children should wear daily disposable lenses and only wear them while they are awake. This helps ensure the cleanliness of the contact lenses and protects children's eyes from infection.
Which Brand of Contacts Is Right For Me?
When choosing the right contact lens brand for your vision, it is important to consider the materials, length of wear, and type of vision issue you are trying to correct. Most brands will offer a variety of content lens choices to ensure you get the best fit and comfort. Your optometrist will be able to offer your suggestions on the best fit and material for your eyes so you can choose a pair of contact lenses that best suits your lifestyle and vision correction needs.
New Contact Lens Wearers
Dailies Aqua Comfort Plus is a great contact lens choice for people who are new to wearing contacts. Offering effective moisture and comfort for the eyes, Dailies AquaComfort Plus is a daily disposable lens, offering flexibility and convenience paired with UVA and UVB protection. These contacts are ideal for people with nearsightedness, farsightedness, and astigmatism.
Acuvue Oasys (Vistakon)
Designed for complete comfort and visual clarity, Acuvue Oasys is one of the most popular contact lens choices for weekly wearers. Made with Hydraclear Plus Technology, Acuvue Oasys provide the moisture you need for everyday contact wear. These contact lenses are also a great choice for people who suffer from dry eyes.
Astigmatism Contact Lenses
It is now easier than ever for people who suffer from Astigmatism to enjoy the convenience and comfort of contact lenses. Air Optix for Astigmatism offers Precision Balance 8|4 technology that prevents rotation and keeps your eyes focused. They have the highest oxygen transmissibility of any soft toric lenses which means you can enjoy blur-free vision without causing dry eyes.
Presbyopia Contact Lenses
As we age it seems as though wearing glasses is unavoidable. Bausch + Lomb Ultra for Presbyopia provides the same quality of vision as bi-focal glasses without the need for having to carry around a 'spare pair'. Advanced multifocal technology means you can comfortably wear these glasses while driving at night and reading.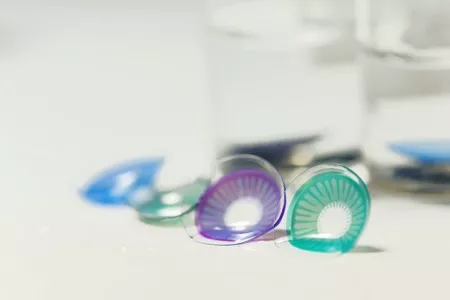 FreshLook ColorBlends allow wearers to change up their look every day. These vibrant color contact lenses give you the same high-quality vision clarity as other contact lenses with a variety of stunning color choices. Choose from gray, green, amethyst, or brilliant blue to name a few of the exciting natural-looking colors created using 3in-1 technology that adds depth and vibrancy to the eyes.
Contact Lens Care
Getting contact lenses is a life-changing experience. You no longer have to worry about wearing glasses every day and can enjoy high visual clarity easily and affordably with contact lens options designed for convenience. Whether you decide to go with daily contact lenses or long-wearing contact lenses, it is important to practice good hygiene and care. This will ensure a comfortable experience and help your contact lenses last longer.
Daily Wear vs Overnight Contact Lenses
Contact lenses are designed to suit your lifestyle. They are available in a variety of wear-length styles so you can choose the right kind of contact lenses to suit your busy schedule.
Daily wear contact lenses are designed to be worn once and thrown away. Daily wear contact lenses are available in several length-of-wear types including:


Quarterly disposable lenses
Contact lenses that are worn for more than a day should be removed each night and cleaned before insertion the next day
Overnight and extended wear lenses can be worn for up to 30. They are designed to be worn both day and night. Extended wear lenses should be removed and cleaned regularly to avoid a build of dirt on the lens or in the eye. Poor contact lens hygiene can lead to complications including infection.
How Often Should I Replace My Contact Lenses
Contact lenses come with specific cleaning and disposal instructions. Following these instructions reduces the risk of developing eye infections or developing a buildup of debris around the contact lens.
Here is a helpful guide on how often to dispose of your contact lenses.

Daily Disposable Lenses
Discard at the end of each day

Disposable Lenses
Discard every one to two weeks

Monthlies
Discard every month or quarter based on manufacturers instructions

Reusable Lenses
Discard every six to eight months
Contact Lens Hygiene and Care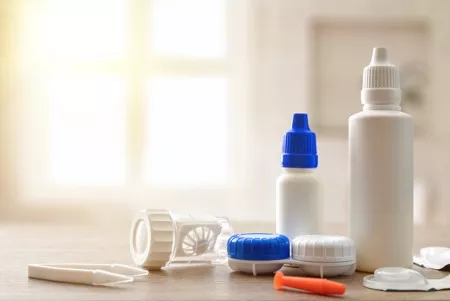 p>Disposing of your contact lenses at the appropriate time will reduce the risk of developing an eye infection. To ensure you enjoy the highest level of comfort and visual clarity, always follow
good contact lens hygiene
while handling and inserting contact lenses.
Always wash your hands with soap and water before handling contact lenses.
Avoid wearing contact lenses when swimming. The chemicals in the pool or water could cause bacteria to build up around your eye causing serious eye damage.
Use approved contact lens solutions when cleaning your contacts. Never use a contact lens solution beyond its expiry date and never share contact lens storage cases.
Never use saliva or tap water to clean contact lenses. This can lead to a serious eye infection.
Follow your contact lens instructions. Your contact lenses are designed for personal use. Do not share contact lenses and always dispose of them based on the manufacturer's guidelines.
Only use approved contact lenses. Wearing cosmetic contact lenses can cause damage to your eye. They are not regulated or approved, which means you could run the risk of scratching or damaging your retina. Consult your eye care professional about approved color contact lenses.
By maintaining good contact lens hygiene you can prevent scratches and breakage of your contact lens. It will also extend the life of your contact lenses so you can get the most comfort and wear out of them.
Buying Contact Lenses
Buying contact lenses online is an easy and affordable way to purchase your contact lenses. With the click of a mouse, you can choose the style, material, and color of contact lenses you need to enjoy good vision. Once you have made your selection, simply hit add to cart. In a few days, you will receive your new contact lenses. To begin exploring which contact lens options are available for you, click Shop Contacts where you will be able to shop by type, brand, and style.
At WebEyecare we offer a 100% customer satisfaction guarantee. We only offer the best in contact lens technology designed to help wearers experience maximum visual clarity and comfort. Don't forget we offer free shipping on most orders and we are always here to help answer your questions - just click the 'chat now' button.