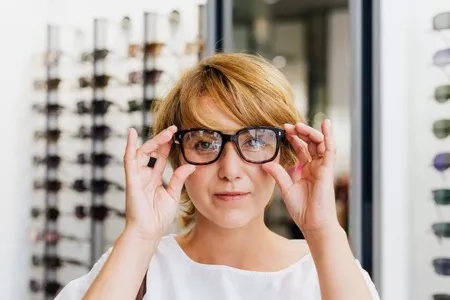 Myopia is where the visual images come into focus in front of the retina, resulting in poor vision related to distant objects. People with myopia often have to move closer objects to make out the details. Unlike presbyopia (farsightedness), myopia can be hereditary.
Myopia may develop over several years, or it can devolve rapidly, but it most often begins in early childhood. Some studies show that school-aged children as young as five years old have developed myopia.
A school environment that forces children to sit at a fixed distance from a blackboard or computer screen can put too much focal strain on the part of the eye responsible for close work.
Lack of natural light and visual stimulation from looking at distant objects are also factors in developing non-congenital myopia. Those who excessively read, use smartphones, or study are more prone to develop myopia than those who spend more time outdoors.
If you've already developed myopia, WebEyeCare offers a variety of eyewear solutions for you, including eyeglasses from many fashionable brands and a full range of contact lenses for every need. WebEyeCare also provides remote vision tests to help analyze the extent of your myopia and help you find the right prescription. Shop our website to find the right visual aid for you.
We offer contact lenses from expert brands like Acuvue, Air Optix, Dailies Brand Lenses, Biofinity, Freshlook, and Proclear. Or, if glasses are more your style, we sell the most stylish frames around. Whether you prefer Americana styles like Rayban and brands like Oakley, Nike for sports lovers, or Coach for those with more vintage preferences. You can also choose from designer brand Versace and the eternally fashionable Vera Wang brand.
How Will I Know If I Develop Myopia?
Picture this: you're trying to read what your teacher or boss has written on the board, but you're seated in the back and can't manage to make out the words in time. You get headaches when reading for long periods, especially if you can't bring the reading material close to your face.
When you're driving, you can't see the road signs until you've passed your turn. When driving at night, it's almost impossible to see, and all the light rays from passing cars and street lights seem so bright that they almost hurt. Do you experience any of these symptoms?
If you experience difficulty getting your eyes focused on far-away objects but have no problems seeing things up close, you most likely have myopia. Signs of myopia typically start to present themselves in younger, school-aged kids, but myopia can develop later in adulthood as well, according to the American Optometric Association.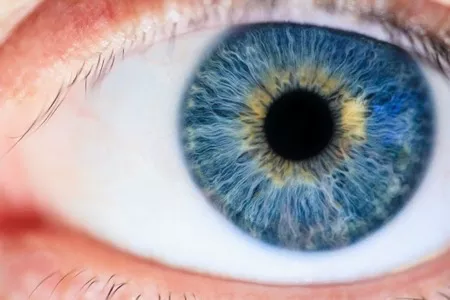 Myopia is genetic in some cases but is often caused by environmental issues or preexisting conditions. Doing frequent tasks that require your eyes to focus on close objects can cause your focal muscles to cramp, which over time, results in changing the shape of the eye.
If these symptoms apply to you, consider getting a comprehensive eye exam from your eye doctor. If your eye health hasn't recently changed, you can confirm your Rx with WebEyeCare's remote vision tests. Doing so will get you the diagnosis and prescription you need to improve your vision.
Once you have your prescription, head over to our website to find your ideal designer eyeglasses and sunglasses or contact lenses specially designed for your needs. We at WebEyeCare care about your daily comfort and want to help you live your best life. It is our mission to ensure our customers get proper eyewear quickly and for an affordable price.
If you have already gotten your prescription but have recently noticed an extreme change in your vision, our online vision test is not for you. No remote test is a substitute for a complete, in-person exam, and you should see your vision specialist as soon as you can.
Your vision is bound to change, and you should routinely check-in to make sure that your prescription is up to date. Our remote eye exams are intended for people who need to verify and renew their eyewear prescription. If you need either of those options, we offer a contact lens online vision test or an online glasses test.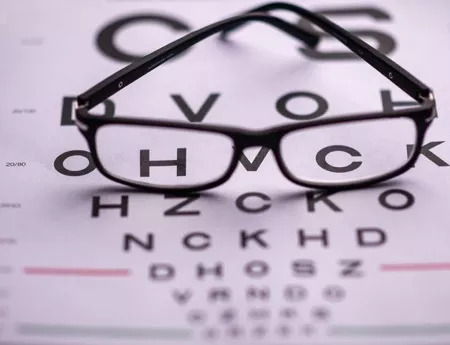 How Often Should I Get an Eye Exam?
The American Optometric Association recommends getting annual eye exams for most people. Patients at higher risk should seek out more frequent visits. This includes people with a familial history of poor vision, systemic health conditions, recent eye surgery, and other eye conditions.
When diagnosed with a visual impairment, ask your eye care specialist about the frequency they recommend for you if they have not already provided a recommendation. If you are interested in learning more on the subject, this article from the AOA goes into more detail and provides a few statistics and graphs.
How Likely Am I to Develop myopia?
It is estimated that roughly 2 billion people experience myopia worldwide. That's nearly a third of the world's population! Some factors that may increase your likelihood of developing myopia involving focusing on close objects, insufficient natural light exposure, physical inactivity, and a poor diet. Glasses or contact lenses can relieve your symptoms but cannot reverse eye damage.
What Are Some Forms of Myopia Control?
When light rays focus improperly in front of the retina, it prevents distant objects from coming into focus for your eye, resulting in poor distance vision. Once the progression of myopia has begun, no form of vision correction can completely undo it.
Myopia, or nearsightedness, is the most common refractive error of the eye. A few studies have shown that gas-permeable contact lenses and single vision eyeglasses can help slow the progression of myopia to nearly a third of what it was. Some other things that may help are eye exercises and refractive surgery (especially cataract surgery).
Conclusion
Choosing which form of vision correction you want to use to control and slow the progression of your myopia is an important decision. Working with your doctor to make this decision is very important. After you finish that exhausting process, picking between glasses or contacts is the last thing you want to worry about.
We at WebEyeCare understand the struggle and want to make your myopia control as accessible and affordable as possible, so we offer a wide variety of contact lenses and eyeglasses frames to suit any taste. We have frequent sales and discounts, so check back often to see what's on sale.
Visit WebEyeCare.com today, or call us at (888)-536-7480. We look forward to hearing from you.