Wearing glasses or contacts isn't always straightforward. If you have astigmatism, you might have wondered if you can even wear contacts or if you'll be stuck with glasses for the rest of your life. The good news is, not only can you wear contact lenses, but there are comfortable lenses on the market with fantastic features designed just for astigmatism.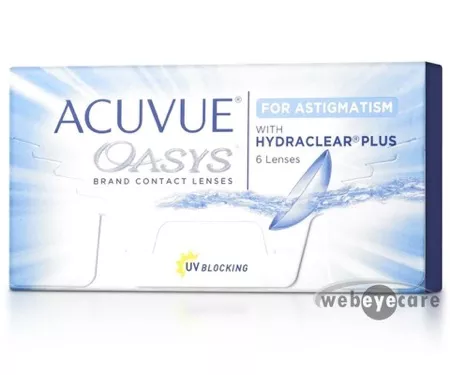 Acuvue Oasys for Astigmatism 6 Pack
Astigmatism and Contact Lenses
Having astigmatism can make it challenging to find contact lenses that work for you. Astigmatism is different from being near- or far-sighted. Astigmatism is when your cornea, or lens, isn't evenly curved. This curvature makes the light improperly refract through your eye, causing blurred vision. With the lens of your eye irregularly shaped, you might think that contact lenses won't be able to solve your blurred vision problem.
It may seem like glasses are your only choice for eyewear, even though contact lenses are what you would prefer. However, Acuvue from Johnson & Johnson vision care developed Oasys for astigmatism contact lenses just for people like you.
No More Dry Eyes with Acuvue Oasys
Acuvue Oasys contact lenses are the perfect option for those who want to be glasses-free in their active lifestyle. These silicone hydrogel contact lenses have UV blocking and Hydraclear Plus technology. Some contact lenses dry out the eye and cause discomfort as the eyeball dehydrates. Acuvue Oasys for astigmatism contact lenses' Hydraclear Plus technology separates itself from the other contact lenses by keeping your eyes hydrated and comfortable all day.
The UV-blocking material in Acuvue Oasys for astigmatism contact lenses protects the eye from UVB rays. When exposed to UVA and UVB rays, the cornea can develop severe irritation, light sensitivity, and lots of tearing. Not only does this feature protect your eyes from the dangers of UV rays, but saves you from the discomfort exposure to UV rays can cause. When the lens blocks UVB rays, it also helps put the annoyance of watering eyes in the past.
Acuvue Oasys for astigmatism contacts are two-week disposable lenses, which means that they last as long as two weeks. They land right in the sweet spot between daily wear contacts and long-term monthly contact lenses. They are more cost-efficient than daily disposables but don't require the upkeep of monthly lenses.
Wearing and Caring for Acuvue Oasys Contact Lenses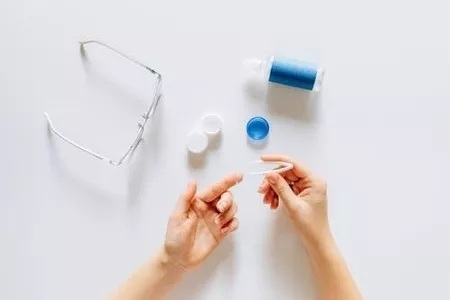 These contacts come in a pack of 6, and each contact lens can be worn for two weeks at the longest, but if preferred, can be thrown away after a week. If you want to get a year's worth of Acuvue Oasys for astigmatism contact lens, you will need 8 boxes so that you have 4 boxes for each eye.
These lenses are not extended-wear and cannot be slept in, and you should clean them nightly so that they're ready for the next day. WebEyeCare's Knowledge Center is the perfect resource for those new to contact lenses. See our Beginners Guide to Wearing Contacts for more details on how to clean and wear your new contact lenses.
How Acuvue Oasys for Astigmatism Lenses Work
The Acuvue Oasys for astigmatism contact lenses are toric lenses, meaning they must be worn a specific way on the eye. Toric lenses adjust the curve of your eye, which allows them to correct your astigmatism. The toric contact lenses change the irregular curvature of the eye, making it necessary for the contact lens to stay right-side-up.
In the past, this irregular curvature made using contact lenses for astigmatism difficult, but Acuvue's Accelerated Stabilization Design technology solves that problem. Their blink stabilization technology keeps the lens perfectly settled in your eye so that it can adjust your astigmatism. This also allows you to blink and move your eyes without worrying about the lens moving out of place.
How to Get Acuvue Oasys for Astigmatism Contacts
If Acuvue Oasys for astigmatism contact lenses seem like the perfect fit for you, WebEyeCare is ready to help you take the next step. WebEyeCare has an online contact lens vision test you can take from home. If you already have a prescription from your eye doctor, you can provide it when adding Acuvue Oasys for astigmatism contacts to your cart. WebEyeCare will do a prescription verification so that you receive the best quality vision care.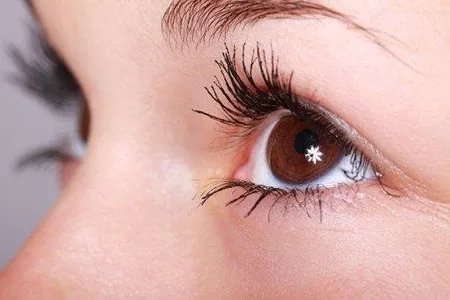 When you choose WebEyeCare for your eyewear needs, we provide free shipping on all orders and even same-day shipping. WebEyeCare is dedicated to an easy and stress-free experience so that you can have crystal-clear vision as soon as possible. Our customer service is ready to answer any questions or concerns via phone call or chat on our website. Our Help Page provides quick answers to all your questions. Don't wait any longer to experience vision care relief by purchasing Acuvue Oasys for astigmatism contact lenses.
Getting eyewear online can be an intimidating experience, especially for those with astigmatisms. It's hard to figure out what contacts work best for you, or if contacts are even an option. Acuvue Oasys for astigmatism contact lenses bring the best of all worlds: comfort, freedom, and crystal clear vision. WebEyeCare is ready to help every step of the way, because we're committed to customer satisfaction.