If you wear contact lenses, you've probably heard about daily disposable lenses. You no longer have to buy them solely through your eye care professional. WebEyeCare provides a wide range of name brand, daily disposable contact lenses at affordable prices!
What Are the Advantages of Daily Wear Lenses?
Brands like Acuvue, Dailies Total1, and ProClear offer contact lenses that are worn for one day and then discarded. This means no soaking, no cleaning in contact lens solution, and no risk of contamination. These lenses are ideal for children, jet-setters, those with low discipline, or those unable to keep to a strict lens cleaning schedule, such as shift workers or first responders.
Daily lenses are also the perfect way to start your contact lens journey if you're just switching over from glasses. They're easy to take along anywhere, and you'll never forget how many days you've worn them or need to worry about whether they've accumulated any buildup. They're perfect for sensitive eyes, those prone to eye infections, or anyone who doesn't want to risk the possibility of contamination that comes from multi-day wear.
What Styles and Features Can I Get with Daily Contact Lenses?
With colored contact lens options, you can easily change your eye color to suit your mood. You can try on every hue and shade and switch between them daily if you choose. Colored contacts are more expensive than non-colored ones, but if you're someone looking for your own sense of style, it's well worth the price. Wearing contacts doesn't have to be dull or boring with color options from brands like 1-Day Acuvue Define and DAILIES Colors.
Daily contact lenses come with other features, as well. If you are prone to dry eyes, you may need all-day moisture, such as that provided by DAILIES AquaComfort Plus contact lenses. Acuvue Oasys contact lenses are a popular choice for daily wear. Talk to your eye doctor about which type of lens is right for you based on your personal history and eye health profile.
Acuvue 1-Day Moist for Astigmatism corrects the irregular shape of your cornea to improve your vision. For 16-Hour hydration, Bausch and Lomb Biotrue ONEDay offers superior bio-compatibility and long-lasting comfort. Acuvue Oasys 1-Day provides long-lasting hydration with HydroLuxe technology, offering easy wear, all-day comfort, and UV-blocking tinted lenses for easy handling. All of these moisturizing lenses have a high water content or moisturizing properties to give you the best all-day comfort.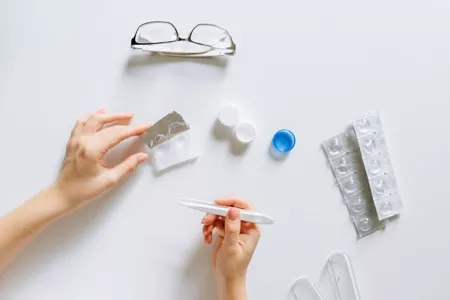 What if My Contact Prescription Lapsed?
While only a licensed eye care professional can conduct a thorough eye exam, we are able to offer an online vision test for contact wearers. This is not an online vision test, but simply an update to a recently lapsed prescription, and only for those who have already been fitted for contacts.
To renew your lapsed contact lens prescription, you must meet certain criteria. The FDA approved Visibly's remote vision assessment tool during the temporary health emergency the agency issued in April 2020. For more information on the vision test we use in conjunction with Visibly, Inc., read our previous blog post on the topic.
So long as you've had a complete eye health examination in the past two years and don't have any serious health conditions that affect your eyes, you may be eligible to take our online vision test.
If you are over 18, below the age of 55, and have visual acuity in the range between 20/16 and 20/40, you can use our online vision test to renew your contact Rx. A licensed eye care professional will review your results and issue your prescription within two business days.
How Affordable Are Daily Lenses?
Contact lens wearers have never had more options. Depending upon your optimal replacement schedule, you also have weekly and bi-weekly options as well as monthly. Daily contact lenses have never been more affordable for the average person, and are now available with the ease and reliability of online ordering.
WebEyeCare offers free shipping, subscription discount options, and a best-price guarantee. We're all about saving you time, money, and headaches by making prescription contact lenses accessible and affordable. Best of all, many of our contacts are Health Savings Account (HSA) and Flex Spending Account (FSA) eligible.
At WebEyeCare, our mission is to bring you the best eyewear choices at the best prices. We offer the same name brands available at your eye doctor, for less money, with free shipping, and great customer service. Try our contacts and you won't be disappointed!