Daily Contact Lenses vs. Monthly Contact Lenses – WebEyeCare
Feb 12th 2023
Contact lenses correct refractive errors and help you see better. The sheer number and types of contact lenses available today can be overwhelming. Several factors determine the most suitable kind of contact lens for an individual. One is the replacement schedule – how frequently you need to replace your contacts lenses.

This article examines daily contact lenses vs. monthly ones and the factors that can help you choose between the two.
What Are Daily Contacts?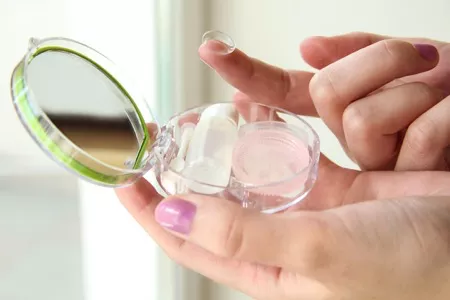 Daily contacts are lenses made to be discarded at the end of each day and replaced with a fresh pair every morning. They are thin, disposable contacts that do not require cleaning or storage. If you remove your daily contact lenses during the day, you have to replace them with new ones.
What Are Monthly Contacts?
Monthly contacts are lenses that can be used continuously for 30 days before replacement. They are thicker than daily contacts and require proper cleaning, handling, and storage every day. You also have to take out your monthly contact lens each day before going to sleep.
Daily vs. Monthly Contacts Pros and Cons
Your prescription, lifestyle, budget, and how often you want to use your contacts are some factors that can help you decide between daily vs. monthly contacts. Let's explore the pros and cons of choosing each type of contact lens.
The Benefits of Daily Contact Lenses
The benefits of choosing daily contacts lenses include:
Convenience
Daily contact lenses are ideal for individuals who do not want the daily hassle of caring for contact lenses. They are single-use devices thrown away at the end of the day, and you also do not have to bother about buying contact lens solutions. The entire process of handling daily contacts takes no more than a few minutes each day.
Less Infection Risk
Since you use a daily contact lens only once, there is little risk of buildup of eye proteins and other deposits, making it less likely for your eyes to become infected. The only risk of infection from using daily contact lenses will come from using low-quality ones or using them more than once.
Suitable for Dry or Sensitive Eyes
The comfort daily contact lenses provide makes them suitable for dry or sensitive eyes. You only need to put them on after you wake up, and you don't have to count the days from when you started wearing them, making it less likely for your eyes to become dry.
The Downsides of Daily Contacts
Thin and Prone to Tearing
Daily contacts are made from thin, delicate materials that tear easily, so you may need to handle them with extra care.
Limited Options for Vision Errors
Daily contact lens materials are limited and may not be suitable for correcting vision errors like astigmatism and other multifocal needs.
More Expensive Upfront
Daily contact lenses are more expensive than other lens types upfront since you will need a new pair each day, but they don't require a cleaning solution or contact lens cases to store them.
Leads to Waste
Disposing of your contacts daily generates much waste, adding to the buildup of environmental waste that can harm marine life if disposed of improperly.
The Benefits of Monthly Contact Lenses
Durable Materials With Wide Variety of Options
Monthly contact lenses are made with durable materials that do not tear easily and provide a wide range of correction options for vision errors.
Less Expensive Upfront
You can use your contacts for up to a month, so you will spend less to get them than you would on daily contacts initially. However, cleaning solutions and contact lens cases may add to the cost.
More Environmentally Friendly
There is less waste from using monthly contact lenses, which is better for the environment.
The Downsides of Monthly Contacts
Risk of Buildup and Infection
There is a higher risk of buildup of proteins and other eye deposits, increasing your chances of getting an eye infection. There are contact cleaning solutions to help remove these deposits.
Requires Cleaning and Care
Monthly contacts require regular cleaning and care, which some people find burdensome. You also have to buy contact cleaning solutions and other equipment, adding to the cost.
Risk of Overwearing Your Contacts
Since they are not disposable, you can forget to take up your contacts, potentially leading to unwanted eye complications.
The Price of Daily Contacts vs. Monthly
The price of contacts ranges anywhere from $150 to $1500 per year, depending on lens type, prescription, brand, replacement schedule, and insurance. Generally, contacts cost $20 to $30 per box, and most people with a regular prescription will get a year's supply of contacts for $200 to $500.
How Much Are Monthly Contacts?
Monthly contacts cost between $45 and $80 for a six-pack (six months' worth of contact supplies). Monthly contact users also need to buy a contact lens solution for cleaning and cases for storage, and these are available for $15 for a month's worth of supply.

So, monthly contacts users with an average prescription would expect to spend between $200 to $400 per year.
Are Daily Contacts More Expensive?
Daily contact lenses cost more than monthlies. They come in packs of 30 (a pack per eye) for around $30 or in packs of 90 for $60 to $80. Buying in bulk might help reduce cost, and new technology is helping to bring down the price of daily contact lenses. Not having to purchase a cleaning solution and contact storage case offsets some of the cost of daily contacts.

A year's worth of daily contact supply would cost about $350 to $500 for an average prescription. So, while the prices of both contact types are comparable, daily contacts are a bit costlier than monthly contacts.
How Long Can You Wear Daily Contacts vs. Monthly Contacts?
The timeframe for wearing your contact lenses depends on your eye health, how well you tolerate contact lenses, and whether you have sensitive or dry eyes. There are also contacts for dry eyes that help with the condition. Generally, you can wear daily or monthly contacts for up to eight to 16 hours straight. It is not healthy to sleep with your contact lenses unless they are approved for extended wear.

If you have sensitive eyes or cannot tolerate contacts for long, it may help to have backup glasses so you can take off your contacts when they become uncomfortable. Speak with your eye doctor to help you figure out the ideal timeframe for using contact lenses.
Taking Care of Monthly Contacts Vs. Daily Contacts
The contact lens care procedures for monthly vs. daily contacts are quite different. For monthly contacts, you have to clean them daily with a fresh contact solution before using them. You also have to store the contact lens in a sterile solution at the end of each day. It is essential to follow manufacturer-approved contact lenses care tips for handling monthly contacts.

Daily contacts do not require much lens care since you take out a fresh pair in the mornings and toss it at the day's end. However, you should wash and dry your hands before handling, inserting, or removing all types of contacts.
What Are Bi-Weekly Contact Lenses?
Bi-weekly contact lenses are contacts you replace after every two weeks. Two-week replacement contact lenses provide a balance between comfort and lower maintenance. Wearers still need to take out their bi-weekly contacts each night and clean them before daily usage. They are ideal for people who wear their contact for a few hours daily or for short periods in a day. Bi-weekly contacts allow wearers to put in and remove their contacts as they want without disposing of them after removal.
Pros of Biweekly Contacts Lenses
They are usually cheaper than daily disposable contacts
They are durable and less likely to tear
Available for astigmatism and multifocal eye conditions
Some are approved for extended wear
Cons of Biweekly Contact Lenses
They can become itchy and uncomfortable if used for long periods
Risk of overwearing as many people find it challenging to keep to a two-week replacement schedule; bi-weekly contacts have the least schedule compliance
Bi-weekly contacts carry a higher infection risk than dailies due to bacteria buildup
Which Contact Lenses Can You Wear?
The most suitable contact lens for you depends on your vision needs and reason for wanting contacts. Not all eye conditions will require the same contact lens.

Individuals with astigmatism will require specific contact lenses for astigmatism that use toric lenses. GP lenses also provide crisp, clear vision. Those with presbyopia will find their needs best served by bifocal and multifocal contact lenses.

Daily disposable contacts are great if you do not want to go through the trouble of cleaning and caring for your contacts each day. If you are using your contacts infrequently, you may opt for soft contact lenses. Extended wear contact will be your best choice if you want to wear your contacts continuously and not have to take them off before sleep.

Determining the best contacts for you starts with an eye exam. Your eye doctor will examine and advise you on the best fit for you and give you a contact lens prescription.
Best Contact Brands for Daily and Monthly Contacts
Daily Contact Brands
1-day Acuvue Moist comes in 90 individually packaged lenses per box that lock in moisture and provide day-long hydration and comfort for those with near and far-sightedness.
CooperVision's Proclear features PC technology that keeps the eyes moist and comfortable for 12 hours, making them great for dry, sensitive eyes.
Acuvue Oasys uses HydraLuxe technology to provide enhanced moisture to the eyes, resulting in fewer dry eyes even after a whole day of wear.
Biotrue ONEday provides crisp, clear vision with advanced hydration that allows the lens to maintain nearly 100% of its moisture for up to 16 hours, providing all-day comfort.
Dailies AquaComfort Plus provides all-day comfort and clear vision with its unique moisturization component and corrects vision for people with shortsightedness, farsightedness, and astigmatism.
Monthly Contact Brands
Dailies AquaComfort Plus provides all-day comfort and clear vision with its unique moisturization component and corrects vision for people with shortsightedness, farsightedness, and astigmatism.
Air Optix Night and Day use SmartShield technology to prevent deposit buildup and provides up to 30 nights and days of continuous clear vision and comfort.
Acuvue Vita 6 pack features UV blocking technology to protect your eyes from the sun and a non-coated silicone hydrogel that locks in moisture for all-day comfort and hydration.
Bausch and Lomb Ultra feature a silicone hydrogel construction that maintains 95% of its moisture for 16 hours, providing dependable and comfortable vision all day.
Extreme H20 Monthly features high-quality GMA/HEMA polymer that combines with water to provide extreme hydration for extended wear.