They are quintessentially cool. Ray-Ban has been gracing the faces of celebrities and world leaders for nearly 100 years. But this infamous eyewear brand didn't start as a style icon. The history of Ray-Bans begins on the airfields, long before it was even a household name.

Let's take a look back at the journey of one of the most popular eye brands of all time as we examine the history of Ray-Ban glasses.
What are Ray-Bans?
Each year millions of people choose Ray-Bans to add an element of style and freshness to their prescription or sunglasses. Their genesis, however, was never with the idea of mass-market appeal or even use by the general public.

Ray-Bans were introduced in the late 1930s as an aviation device for the US Air Force designed to help pilots see better in high glare conditions. As aviation technology became more advanced, plans were flying greater distances than ever before. This included reaching altitudes that made flying into the sun difficult for pilots often leading to severe altitude sickness.

The aviation industry knew they had to do something to protect their pilots. In 1937, Ray-Bans hit the market in the classic aviator style that most people are familiar with today. This new lens technology quickly became a favorite among pilots as the now-infamous green lenses offered the glare protection they needed to fly safely at high altitudes.
The Innovation Behind Ray-Bans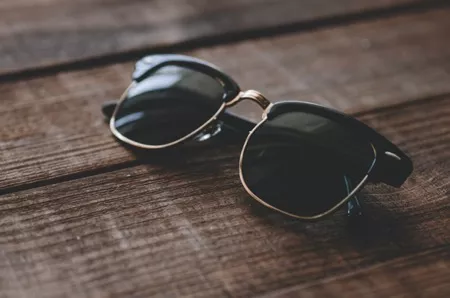 Ray-Bans may have started out as an 'aviator' style frame made from metal materials that offered lightweight comfort, but the Ray-Ban look has changed over the years adapting to both functionality and style.

The Ray-Ban "Shooter" was one of the most unique looks to come out of the Ray-Ban design studios. Launched in 1938, this lens featured green and pale yellow Kalichrome lenses and a "cigarette-holder" circle in the bridge. Why was this pair of frames so popular? The cigarette holder feature allowed wearers a place to put their cigarettes while operating firearms during the Second World War.

Ray-Ban expanded on this active lifestyle design with the introduction of the Ray-Ban Outdoorsman, made from rustic material such as calf leather.

By the end of the 1940s, Ray-Bans had taken on a life of their own with celebrities now adopting them as a wardrobe accessory. Once popular with the likes of General Douglas MacArthur, who proudly strutted Ray-Bans across the world as he traveled between war zones, Ray-Bans had now taken on a more glamorous appeal with Marilyn Monroe, Audrey Hepburn, and James Dean among the devotees.

Ray-Bans continued to attract the attention of Hollywood A-listers and would often appear in popular movies like Easy Rider starring Peter Fonda and Top Gun starring Tom Cruise. Top Gun drove Ray-Ban sales up by nearly 50 percent, revitalizing the brand and introducing it to a whole new generation.
Ray-Bans As A Symbol Of Power
Ray-Ban has been popular for decades with more than just celebrities. Some of the most powerful people in the world adopted the simple styling of Ray-Ban as their eyewear of choice. World leaders have reached for Ray-Ban as they lead their countries often appearing in both formal and informal settings sporting the frames.

Among the powerful Ray-Ban wearers in power are:

John F. Kennedy was a fan of wayfarers
Barack Obama has been seen wearing wayfarers and aviators
Joe Biden has been a fan of Ray-Bans since he was a teenager and today sports classic aviators
George Bush has been seen wearing wayfarers on more than one occasion
Franklin Roosevelt preferred round eyewear over the wayfarer
Dwight Eisenhower was seen on and off the battlefield wearing aviators
These powerful leaders made Ray-Bans a symbol of freedom and patriotism as they lead their countries through war and peace.
Ray-Ban Lens Technology
Coloured optical lenses were not a new thing when Ray-Bans were first introduced, but the company did change how people experienced glare years before other companies like Transitions lenses introduced photochromic lenses.

The classic green-yellow color used by Ray-Ban was designed to offer protection against glare and easily adapt to changes in lighting conditions to avoid pain and discomfort in extreme lighting conditions.

The Kalichrome lenses made details sharp and prevented visual haze created by blue light. This made them an ideal choice for both pilots who had to adapt to rapidly changing lighting and weather conditions to outdoors enthusiasts who wanted eyewear they could wear in all weather situations.
Popular Ray-Bans Today
The appeal of Ray-Bans continues to resonate with wearers nearly 90 years after they were first introduced. Unlike other eyewear that has undergone significant design changes, Ray-Bans remain true to their original design roots, focusing on creating frames that are comfortable, stylish, and functional.

This has meant little deviation from the original Ray-Ban designs which can still be found at eyewear retailers.
Aviators
Ray-Ban RB3543 - feature classic aviator styling with metal detailing and extra-large lenses. This unisex style is versatile and perfect for everyday wear or for outdoor activities such as sports, hiking, or driving. The Chromance lenses give exceptional glare protection making every activity you do easy and comfortable.
Wayfarers
Ray-Ban 0RB4340 - made popular by celebrities like James Dean, this frame is a classic take on the wayfarer. First introduced in the 1950s this bold frame was a departure from the classic aviator offering an alternative that easily adapted to sunglasses or prescription eyewear. This frame is the perfect addition to any Ray-Ban collection.
Round
Ray-Ban RB3447 - lightweight and easy to wear, round Ray-Bans feature metal styling that gives a more minimalist look than the thicker Wayfarers. Celebrities like Leonardo DiCaprio took round Ray-Bans to new fashion levels in the film The Aviator.
Oval
Ray-Ban 0RB4101 - the 'Jackie Ohh' bears the name of style icon Jackie Kennedy Onassis. Ray-Bans were a popular style fixture of the Kennedy family worn by John F. Kennedy, John F. Kennedy Jr, and Jackie Kennedy. Oval frames are perfect for any face shape, elevating the cheeks and creating a slimming silhouette.
Browline
Ray-Ban 0RX6317 - Lily Aldridge and Emma Roberts have both made browline frames a fashion statement. Stylish, wearable, and easy to pair with any outfit, browline frames are the perfect addition to any fashionista's wardrobe.
The Ray-Ban Legacy
Ray-Ban continues to be one of the most popular frames in the world. When you ask someone what their favorite eyeglasses brand is, you will most likely hear Ray-Ban.

The brand continues to find a place in pop culture, holding fast to their classic frame designs and creating new fans as their designs remain popular with a new generation of celebrities. But it is the enduring legacy of quality and style that drives Ray-Ban into a new era. With hundreds of eyewear choices, fans remain loyal to the brand that was center stage on the battlefield and the runway.

Fans know they can always trust Ray-Ban to offer the look and comfort they have always loved while remaining true to their roots of offering quality eyewear.

Web Eye Care offers one of the largest selections of Ray-Ban eyewear in classic styles wearers love. Check out our complete range of Ray-Ban prescription eyewear and sunglasses.

Get even more of the Ray-Bans you love during our Black Friday sale happening now where you can save up to 20% on your favorite styles.