We all know the importance of a good night's sleep on our health, but how does getting your beauty rest impact your eyesight? Whether you realize it or not, sleep has a drastic impact on all parts of your body — even your eyes. We'll explain the basics of healthy eye habits, the do's and don'ts of overnight eyewear, and how to get the appropriate amount of sleep to keep your eyes as healthy as possible.

• How does sleep deprivation affect your eyes?
• Why do my eyes hurt when I don't sleep long enough?
• Can I wear my contacts overnight?
• How should I store my contacts overnight?
• Can I wear contact lenses when I'm tired?
• Sleeping in glasses
• Where should I keep my glasses when I'm asleep?
• Tips for avoiding sleep deprivation
How Does Sleep Deprivation Affect Your Eyes?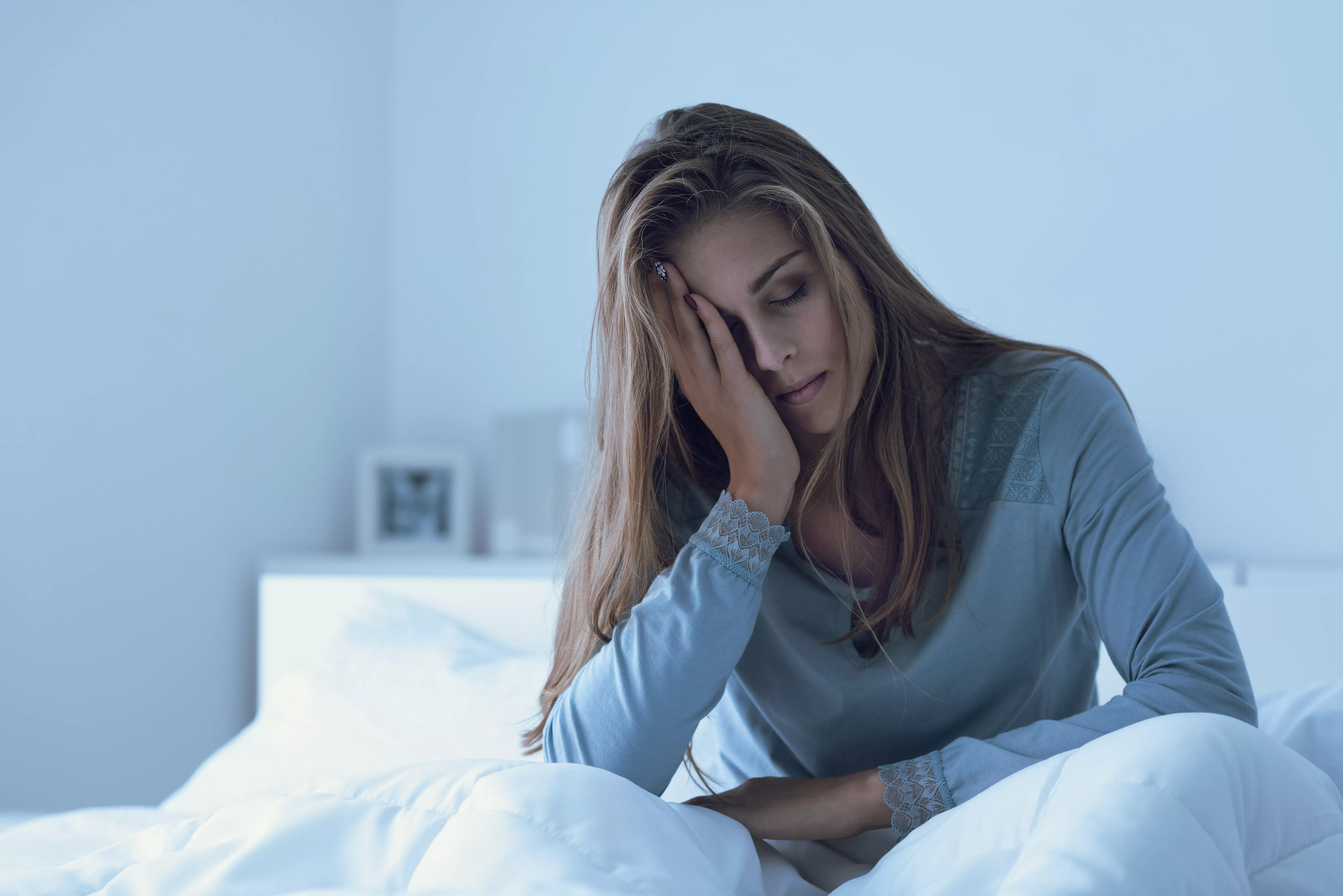 When your body doesn't get enough sleep, it's easy to tell by your physical appearance. Everyone has seen the puffy eyes, dark undereye circles, and droopy eyelids that come after the nights someone has struggled to fall asleep, stay asleep, or when they've pulled an all-nighter. However, the physical impact isn't the only way your body will rebel against you for not taking care of your sleep schedule.

When you don't get enough sleep, it impacts your motivation, mood, memory, metabolism, and more. Overnight is also when your body works to heal itself and recover from the previous day's activities. Like your body, your eyes use the time when you're asleep to rest and recover as well. When your eyes don't have enough time to rest, you may experience itchy, dry, or red eyes. A lack of rest can also cause your eyes to produce fewer tears, which can increase the likelihood of eye infections. In addition to itchy and dry eyes, sleep deprivation can cause eye spasms or twitching, light sensitivity, and blurry eyesight.

Another impact of sleep on the quality of your eyesight is the correlation between sleep apnea and glaucoma. Glaucoma is a group of eye infections that can damage the optic nerve by increasing the pressure within the eye. The optic nerve is crucial to healthy and clear eyesight, and damage can result in temporary or permanent blindness. In fact, glaucoma is a leading cause of blindness for adults over age 60. Sleep apnea is when the body experiences frequent episodes of shallow or paused breathing while asleep. According to the Glaucoma Research Foundation, people with obstructive sleep apnea syndrome are roughly ten times more likely to suffer from glaucoma.
Why Do My Eyes Hurt When I Don't Sleep Long Enough?
The impact that sleep deprivation has on eyesight has a lot to do with the lack of recovery and reduced tear production. Not getting enough sleep, whether in one night or several nights, can cause dry eyes, eye strain, and even cause blood vessels to burst.

Our eyes are working all day, every day while we're awake. They help us read, drive, and take in the world around us. This work takes a toll on our eyes' health, which is why overnight recovery is critical to keeping our eyes happy and healthy.

If you experience eye pain after a sleepless night, try taking a nap or going to bed early to rest up and refuel. During the day, take advantage of hydrating eye drops and practice a few eye exercises to help your eyes relax and refocus. These are also great eyesight exercises to do every few hours during the day to keep your eyes healthy and pain-free.
Can I Wear My Contacts Overnight?
When you've had a long day, and you're longing to be asleep in your bed, it can be easy to forget about taking out your contact lenses. It's also tempting to leave your contacts in your eyes when taking a short nap. However, unless your optician has specifically prescribed you contact lenses that are designed for extended or overnight wear, you should always take your contact lenses out before going to sleep, even if it's just for an hour.

When you're awake, your eyes produce natural tears, which help moisturize your eyes and contact lenses. Companies also create contact lenses to increase moisturization and allow oxygen to flow through the lens. Sleeping in contact lenses can prevent essential hydration and oxygen from reaching your eye, increasing your risk of eye infections and dry eyes. Oxygen and hydration are two elements your eyes use to ward off microbial or bacterial infections, which is why eye care professionals always discourage patients from sleeping in contact lenses that aren't meant for overnight wear.

For contact lenses designed to be worn overnight, opticians still recommend removing your contacts and leaving them out overnight at least once a week to protect your eyesight long-term.

Another important reminder from an eyesight perspective is to remember to change your contacts regularly. Disposable contact lenses have recommended wear periods, such as daily or monthly contacts. Using your contacts for longer than their prescribed wear period can damage your cornea, cause dry eye, and cause blurry eyesight due to protein deposits on your lenses. Opticians caution people who wear contact lenses that although it may seem tempting to attempt to extend the life of their contacts, they'll pay more money in the long run if they experience complications than they would if they replaced their contacts when they should have.
How Should I Store My Contacts Overnight?
Keeping your contact lenses clean and fresh is key to keeping your eyes healthy and rested overnight as well as to protecting your eyesight. Whenever you handle your lenses, make sure your hands are clean and free of any dirt or other substances. Here are some helpful tips to consider when removing and storing your contact lenses overnight:

• Before removing your contact lenses, wash your hands with a mild soap for 20 seconds, and then dry with a clean, lint-free towel.
• Avoid using soaps that contain lotion or fragrance. These substances can transfer onto your contacts and into your eyes, causing pain and potential damage to your eyesight.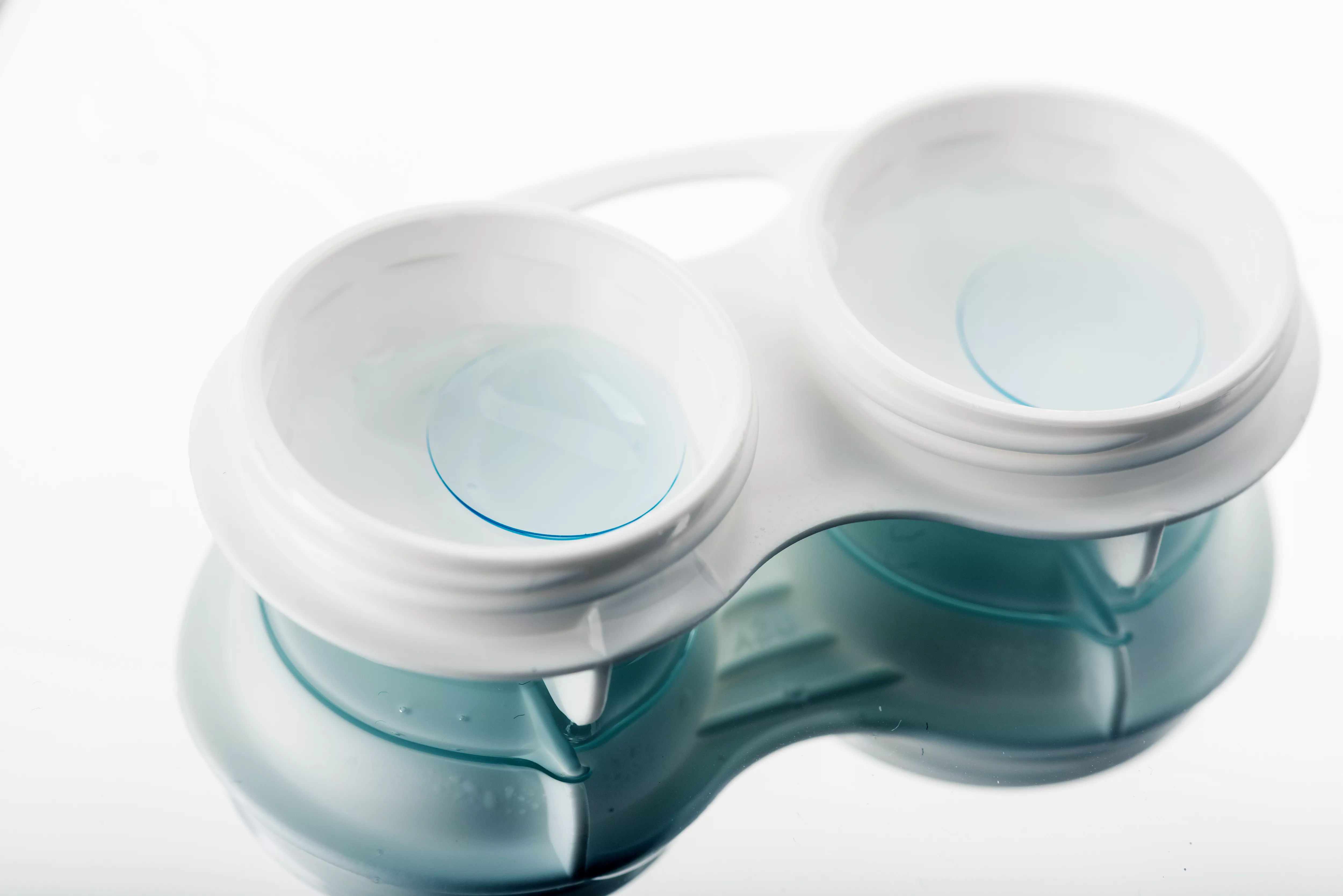 • Use fresh contact lens solution that is designed for your style of contacts, and make sure that your solution has not expired.
• Do not mix or alternate between different eye care solutions. Contact lens solution is not one size fits all, and you may damage your lenses by using an incorrect solution.
• Understand the difference between a disinfectant solution and an enzyme or a cleaning solution. Different contact lenses have different requirements. It's important to speak with your eye care provider before using your contacts to ensure your cleaning and sanitizing solution is appropriate for your prescribed contact lenses.
• Always use fresh contact lens solution every time you store your contact lenses.
• Clean your contact lens case after every use. After inserting your lenses, empty the used contact lens solution and rinse the case with the appropriate lens cleaning solution or water. Allow the case to air dry before using.
• Replace your case at regular intervals as recommended by your eye care professional during your eye exam. Contact lens cases can be a breeding ground for bacteria that can cause eye infections and permanent damage to your eyesight if left untreated.
• Store your contact lens case somewhere that isn't too hot or cold to prevent damage to your lenses.
Can I Wear Contact Lenses When I'm Tired?
As we mentioned before, mild or severe sleep deprivation can cause your eyes to feel itchy, red and even trigger spasms or twitching in your eye. Although wearing contact lenses in itself isn't going to harm your eyes, it can lead to actions that may damage your eyes. If you experience itchy or dry eyes due to a lack of adequate sleep, your gut reaction may be to itch or rub your eyes. If you're wearing contact lenses, you may accidentally scratch or damage your cornea in the process.

If you are someone who experiences bouts of dry eyes naturally, you may want to wear glasses during times when you feel less rested than usual. Choosing glasses over contacts when you're tired can help avoid aggravating your dry eyes even further. When you're tired, it's also important to be increasingly mindful to remove your contact lenses before falling asleep.
Sleeping in Glasses
If you wear glasses, you may have experienced a time when you woke up and realized you forgot to remove your glasses before falling asleep. If you're a light sleeper or someone who doesn't move around a great deal in your sleep, situations like this may not be problematic. However, sleeping in glasses regularly can be a dangerous practice, both to you and your eyeglasses.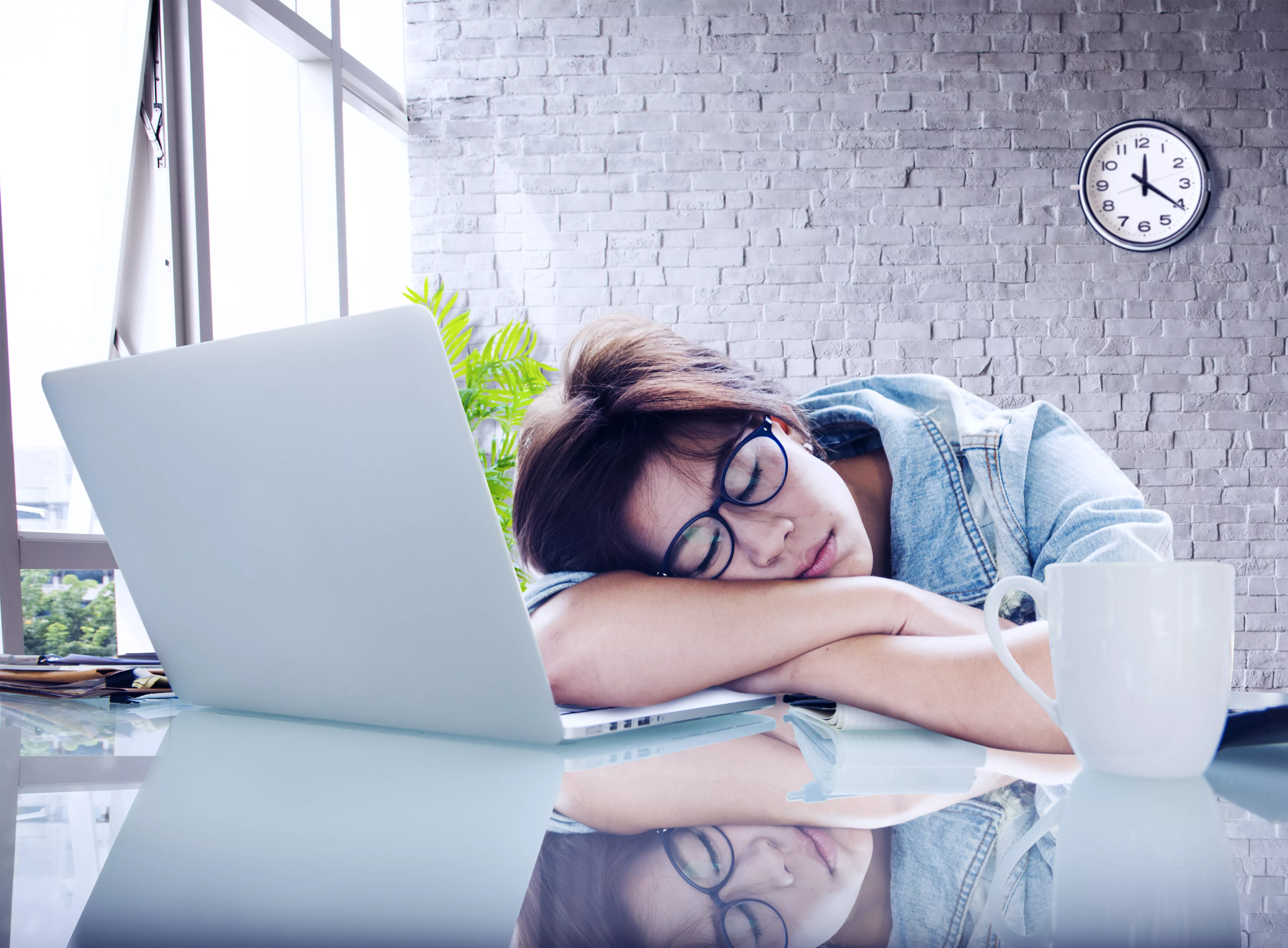 Eyeglasses are made to be durable enough to withstand the normal wear and tear of everyday life. If your glasses fall off or you accidentally drop them on the floor once, you probably won't do a lot of damage. Sleeping can be problematic because most people change positions in their sleep without fully waking up. Whether it's rolling over from your side to your stomach or turning from your back to your side, these actions occur outside of deep sleep but not in a fully awake state, either. If you're wearing glasses, these changes in position can cause you to crush or bend your glasses without realizing it.

Sleeping in your glasses can be dangerous to your eyesight, as well. The frames of your glasses can bend in your sleep, causing cuts or scrapes to your face if you roll onto them the wrong way. Although you may find yourself falling asleep in your glasses on accident, doctors never recommend intentionally sleeping with your eyeglasses on.
Where Should I Keep My Glasses When I'm Asleep?
Taking care of your glasses is important to protect your investment and ensure you have access to them when you need them. Although you shouldn't sleep in your glasses, many people experience eyesight that is poor enough that they would struggle to see in the middle of the night if they needed to get out of bed. These instances are why it's important to keep your eyeglasses close at hand yet in a safe enough place that you won't accidentally misplace or break them.

Where you store your glasses may depend on your level of comfort navigating your home without vision correction. If you have mild to moderate eyesight correction needs, you may not need your eyeglasses to get up in the middle of the night to get a glass of water or use the bathroom. In these situations, storing your eyeglasses in a protective case on the bathroom counter or your dresser would be appropriate.

For those with more intense vision correction needs, such as someone who is unable to see fixed objects without the assistance of eyeglasses, keeping your glasses within arm's reach is important. In an emergency, you should be able to instinctively reach for your eyeglasses and know where they are located. A nightstand or a dresser next to your bed are good places that provide easy access but are still safe and secure.

Regardless of your eyesight correction needs, create a habit of placing your eyeglasses in the same place every night before bed. Ensure that your glasses are somewhere that offers some level of protection, such as on a flat and stable surface and in a protective case. If you have pets or small children, make sure your glasses are somewhere that can't be disturbed.

When traveling, try to keep the same routine. If you place your eyeglasses on your nightstand at home, find a similar place wherever you're staying. If all else fails, place your eyeglasses in their protective case in your backpack, suitcase, purse, or briefcase for safekeeping.
Tips for Avoiding Sleep Deprivation
Whether you wear contacts or eyeglasses, finding a nighttime routine that helps you get the recommended amount of sleep is vital to your overall health as well as your eyes. Experts recommend at least five hours of uninterrupted sleep to allow our eyes to heal and recover each night fully. Here are a few tips and tricks to getting the best sleep possible and keeping your eyes healthy in the process:

• Ensure appropriate light exposure. Absorbing natural sunlight or using a lamp that simulates the sun's movement helps maintain our natural circadian rhythm or the times when we feel tired and awake. Ensuring your body has the needed exposure to light will help trigger it to become sleepy when it's supposed to, as well as promote a night of higher quality sleep. Go for a walk during the day or in the evening or use a lamp with a special bulb that simulates the sun to avoid sleep deprivation.

• Wake up as consistently as possible. If you usually wake up at 7 a.m., try to avoid sleeping late regardless of when you fall asleep. Our bodies develop a timetable that triggers different sleep and wake cycles, called our circadian rhythm. Waking up at or as close to the same time as possible each day helps support this rhythm, promoting higher quality sleep.

• Minimize screen time at night. Increasing your exposure to natural light during the day helps keep us awake, but the same is true at night. Exposure to too much blue light, such as the light of our laptops, computers, phones, televisions, or gaming equipment, can trick your brain into thinking that it's daytime, increasing the potential for sleep deprivation. Beginning two hours before you go to bed, try reading a book or listening to a podcast instead of watching television, playing on your phone, or playing a videogame.

• Avoid drinking alcohol in the evening. Even though alcohol can make it easier to fall asleep, it also produces sleep that is of incredibly poor quality. There's a reason that people who drink heavily one night wake up feeling tired — among other things.

• Physical activity can help promote deeper, more restful sleep. However, working out later in the day can make it more difficult for many people to relax and fall asleep. Try to schedule your workouts for at least three hours before you expect to go to bed for the best sleep experience.

• Use light-blocking curtains or an eye mask. If you struggle to stay asleep in the morning due to the amount of light coming in through your window, or you sleep during non-traditional hours, installing curtains that block sunlight or wearing an eye mask can help you stay asleep until you're ready to wake up.

• Keep your room cool and comfortable. Research shows that people experience the best sleep quality when the room they're in is between 65- and 68-degrees Fahrenheit. Avoid overloading your bed with blankets that will cause you to overheat, or use a fan if necessary.

• Consult your doctor if you have continued trouble sleeping or experience sleep deprivation. There may be other issues at play if you can't fall asleep and stay asleep. Don't be afraid to speak with your doctor about your concerns and any suggestions they may have to help you sleep better.

Sleep is an integral part of your health and wellness, as well as to your eyes. Be sure to make the most of your nighttime routine to keep your eyes safe, healthy, and feeling their best.