All About Air Optix Contact Lenses
Apr 26th 2023
WebEyeCare offers a wide variety of contact lenses for every need. We work with brands like Acuvue Oasys, Dailies, Freshlook, and Biofinity. Air Optix, though, really stands out from all the rest.
One of our best-selling brands, Air Optix contact lenses, are more breathable than most other contact brands, which means extended wear without dry eyes. This increased breathability also means a lower risk of a damaged cornea from over-wear and better eye health overall. WebEyeCare works with Air Optix and other high-quality brands to bring you the best possible treatment for any visual ailments.
WebEyeCare knows you have a busy schedule, which is why it's our mission to make your vision correction journey as painless as possible. We make accessing top brands likeV era Wang, Air Optix Lenses, and Giorgio Armani easier than ever. No matter your style, budget, or prescription, WebEyeCare has the right fit for you. We even created access to a way for you to get your vision prescription from the safety and comfort of your own home.
The Benefits of Choosing Air Optix Lenses
Air Optix contact lenses have been around since 2008 and have made quite an impact since. They are by far one of the most popular brands that we work with here at WebEyeCare, and with good reason. WebEyeCare offers many options for vision correction, including Acuvue Vita, Precision1, and Proclear. Every brand we work with has its own unique benefits, though none have smartshield technology quite likeAir Optix lenses.
Air Optix Smartshield Technology
Air Optix smartshield technology features an ultra-thin, breathable layer of protection that other contact lens brands don't. This protective layer blocks out harmful irritants while remaining breathable. Air Optix smartshield technology also features a defensive moisture layer to prevent dry eyes and decrease the risk of corneal damage.
Air Optix Products
Air Optix offers contact lenses for almost all visual impairments, and they even produce colored contacts. Because they have so many products, it can be hard to find exactly what you're looking for. WebEyeCare has put together a list of products and descriptions to help you navigate the plethora of Air Optix contact lenses available to you. All Air Optix disposable contact lenses are intended for daily wear and should never be worn overnight unless specified otherwise by an eye care professional.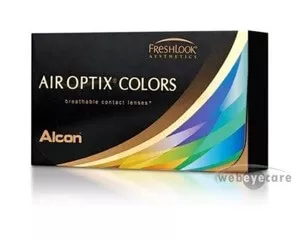 Air Optix Colors lenses come in a dozen different colors (all available on the official WebEyeCare website). They come in both prescription and non-prescription forms. Air Optix Colors uses a 3-in-1 color technology that subtly combines the lens colors with your natural eye color.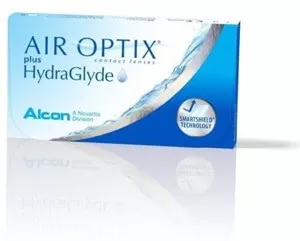 Air Optix Plus HydraGlyde is specially designed for people with naturally dry and itchy eyes that are made worse by contact lenses. They even come in Air Optix Plus HydraGlyde Multifocal! The never-before-seen combination of Smartshield technology and the HydraGlyde Moisture Matrix is what makes Air Optix Plus HydraGlyde one of the best monthly contact lenses available.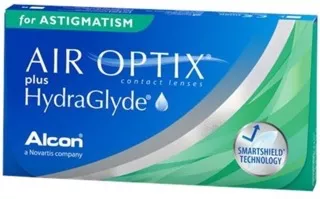 Air Optix HydraGlyde for Astigmatism are the perfect solution to blurry vision and chronic discomfort in people with astigmatism. Air Optix has truly gone above and beyond to ensure that people with astigmatism have access to the best vision correction they can.
WebEyeCare is Here for You
Ever since lockdowns began, getting in to see an eye care professional has been much harder. Luckily, WebEyeCare has a way for you to get your vision prescription renewed from the safety and comfort of your own home. We offer virtual eye tests for contacts for $34.99, and virtual eye tests for eyeglasses for $39.99. Taking care of your vision correction has never been so easy!
WebEyeCare has been giving people access to vision care since 2009. We've helped thousands of happy customers find contact lenses, eyeglasses, and sunglasses they love.
Nearly every contact wearer has run out of contacts without realizing it and had to scramble to get the next batch as soon as possible. That's why WebEyeCare offers a variety of subscription options for your convenience.
With a WebEyeCare contact subscription that fits your schedule, the panic of running out is a thing of the past. Not only is a WebEyeCare subscription convenient, but we take an extra 5% off of every subscription purchase. There's no fee for canceling, which you can do at any time.
Visit our website today, or call us at 1-(888) 536-7480.
We look forward to doing business with you!