The short answer is no. Acuvue Oasys contacts are not discontinued, but there are products with similar names that have been. Some of these similarities may have caused some confusion, but we're here to clear that up.
Johnson and Johnson Vision Care provides us with a list of these products and their suspended dates. Some of the products on the list are:
1-day Acuvue Brand contact lenses (December 31st, 2017)
Acuvue Brand contact lenses (March 31st, 2015)
Acuvue Advance Brand contact lenses with Hydraclear (March 31st, 2015)
Acuvue Advance Brand contact lenses for astigmatism (March 31st, 2015)
Acuvue Advance Plus Brand contact lenses (March 31st, 2015)
1-Day Acuvue TruEye Brand contact lenses (December 31st, 2013)
...and more
Not to worry, though. Many of them have been remade into a better version for anyone who liked the products listed above.
The Acuvue Oasys Brand is continually revolutionizing the industry of vision correction. These upgraded products include: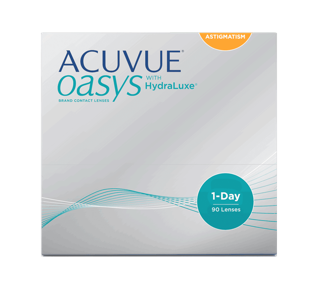 ACUVUE® OASYS 1-DAY with HydraLuxe™ TECHNOLOGY for ASTIGMATISM
1-DAY ACUVUE® MOIST Brand Multifocal Contact Lenses for Presbyopia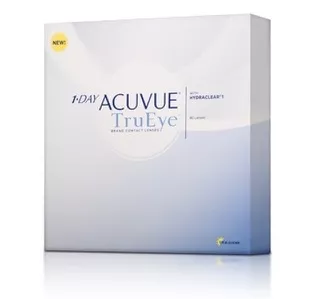 1-DAY ACUVUE® TruEye®
You should research the contact lenses you intend to buy if you have not previously worn them. It is essential to know that the product meets your vision and comfort standards. When selecting a product, it is vital to know the parameters of Acuvue Brand contact lenses that work for you. To help you out, Johnson and Johnson Vision Care has put together a chart of the base curves and other parameters of many Acuvue Brand contact lenses.
For just a small fitting fee, your eye doctor can assist you in determining the measurements that you need, but you should continue to invest heavily in doing your own research to make sure that the lenses you buy match what the doctor tells you you need.
How do Acuvue Bifocal Contacts Work?
A German glassblower named F.A. Muller introduced the first known pair of contact lenses. In 1939, the first plastic contact lenses arrived. Yet, believe it or not, disposable contacts only hit the industry in 1987!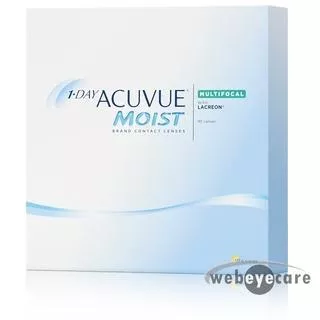 1-Day Acuvue Moist Multifocal 90 Pack
In 1957, a product that revolutionized the vision correction industry was developed: bifocal contact lenses. Now, after decades of research and development, Acuvue has finally perfected them, so that you can see correctly without having to wear glasses all the time.
But how do they work?
Bifocal contact lenses are designed with two different strengths in one lens, helping people whose eye doctor has given them two prescriptions. Bifocal contacts allow you to alternate lenses and switch prescriptions by simply looking up or down.
How Long Do Acuvue Oasys Contacts Last?
Acuvue Oasys Brand contact lenses can be worn for up to seven days if approved by your optometrist or eye doctor.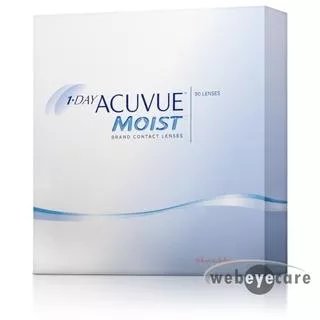 Can You Sleep in Acuvue 1-Day Moist?
You should never sleep in any 1-day contact lens, including Acuvue1-Day Moist. This prohibition includes napping. They are designed to be disposed of and replaced after one day (thus the name). It may not seem important, but there are real dangers associated with over-wearing your contacts.
As we mentioned in this article about sleeping in Air Optix contacts, the side effects of sleeping in lenses that have not been approved for extended-wear use can range from mild to severe, including:
Discomfort
Itching
Burning
Irritation
Or more severe issues like corneal ulcers
Even when wearing contact lenses approved for extended wear, you should always consult a vision specialist before leaving any lenses in your eye overnight.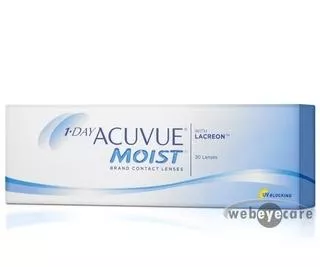 How Long Can You Wear 1-Day Acuvue Moist?
1-Day Acuvue Moist contacts were made to be worn for one waking day. These lenses last for about 14 hours, and should then be disposed of. The FDA has warned against re-wearing disposable 1-day contact lenses, as doing so can lead to eye infections. While 1-day contact lenses may not appear different from other contact lenses, they are thinner, and wear out faster than other contact lenses. Always follow the package insert and care instructions unless otherwise specified by your optometrist or vision care expert. Failure to follow these warnings can result in mild to severe illness or injury, which could require medical treatment to repair.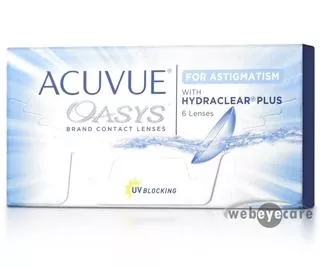 Acuvue Oasys for Astigmatism 6 Pack
Acuvue Oasys or Acuvue Oasis?
It's common to misspell Acuvue Oasys as "Acuvue Oasis." That's understandable, because we're all familiar with the word "oasis" which refers to a fertile spot in the desert, where water is found. The soothing coolness of finding an oasis after wandering in the desert will describe exactly how you'll feel when you put in these moisturizing contacts for the first time.
Check out the wide selection of contacts that WebEyeCare offers. We provide great prices, fast shipping, and excellent customer service. Let us be your one-stop-shop for all things eye care!