Can You Sleep in Air Optix Colored Contact Lenses?
Mar 30th 2023
As contact lenses become more common and affordable, many people are making the switch from glasses. Colored contact lenses are a great way to show some flair and style while correcting your vision, and they're becoming a popular choice. Some contacts are approved for extended wear; others should be worn only during the day.
So can you wear colored contact lenses overnight? Keep reading to find out why or why not.
Sleeping in Contact Lenses
You've doubtless heard that you should NEVER sleep in your contacts. Then some brands innovated contact lenses that can be worn continuously for up to seven days and six nights of extended wear. This newer development has led to some confusion for people.
Can I leave my contacts in at night?
You might wonder if contact lenses are now safe to leave in at night because of advances in technology. After all, the soft lenses of today are more breathable and gentler on your eyes than the hard, rigid lenses of years past.
But the simple answer is that you should never sleep in your contact lenses. Most contact lenses for daily wear are not approved for extended use, and using them for too long can lead to a higher risk of serious eye problems like corneal ulcers.
What happens if I leave my contacts in at night?
When worn properly, contact lenses have side effects like discomfort, mild burning, and irritation. If used improperly, the risk of infection and corneal ulcer is greater. That's why it's so important to follow the guidelines established by your eye care professional.
For certain people, using specially approved extended wear lenses can be an option, but if you can take them out each night, you still should. Even with the increased airflow of today's soft lenses, your eyes still need a chance to breathe. Though Air Optix Night & Day offers up to 30 days and nights of continuous wear for some individuals, Air Optix Colors do not have that feature.
Taking your contact lenses out at night allows the natural substances in your tears to clean and restore your eyes, refreshing them for the morning when you put your lenses back in again.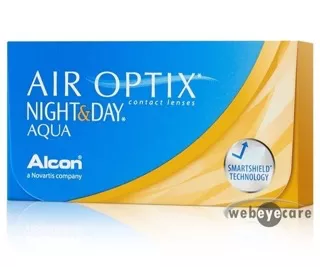 Who Needs Extended Wear Lenses?
People who have variable or extra-long shifts, like firefighters, healthcare professionals, or law enforcement, can benefit from extended wear lenses. Imagine someone like an airline pilot taking a short nap in the cabin while his co-pilot steers the plane. If there's an issue and the pilot needs to get back on the controls, there's no time to scramble for the lenses before taking charge.
You can see how people in high-stress or overtime situations might need lenses that they don't have to remove after 16 hours. Firefighters usually sleep at the station during their shift and have to get ready to go in record time. Being able to sleep in your contacts can be lifesaving for people who work in unusual or high-pressure careers.
But if you aren't in one of these professions, the extra cost for extended wear lenses isn't usually worth it. Establish a good daily routine and remove your lenses each night for optimal eye health!
Don't Sleep in Regular Contacts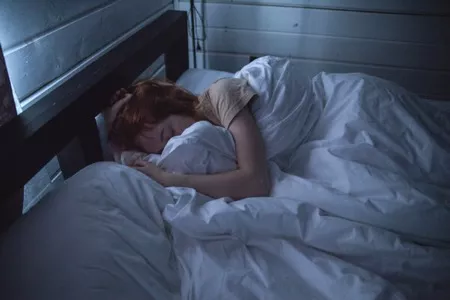 Most contacts aren't FDA-approved for extended wear. Even if they are, you should never do so unless your eye care professional gives you the go-ahead. The risk of complications is greater for extended wear contact lenses.
You may have a health condition or be predisposed to one that would make using extended wear contacts dangerous to your eye health. Always speak with your Ophthalmologist before beginning any kind of contact lens regimen.
Are Air Optix Colors Approved for Extended Wear?
No. Air Optix Colors are monthly disposable contact lenses. Air Optix Colors are designed to be worn during the day, taken out and stored in the appropriate lens solution each night, and discarded after a maximum of one month's use. Discard sooner if the lens becomes damaged, torn, contaminated, or causes irritation. Always read the package insert, which contains important information for Air Optix Colors and how to use them. Air Optix does make one type of contact approved for extended wear, Air Optix Night & Day, but they do not come with color options.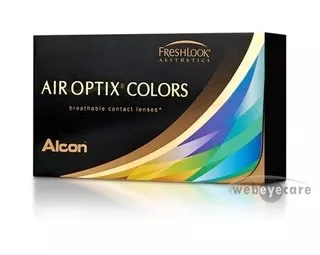 What Are Air Optix Colored Contacts Made Of?
Air Optix Colors are lotrafilcon B contact lenses. They correct nearsightedness or farsightedness in those who have been prescribed contact lenses. Even if you are wearing them just to change your eye color, contact lenses are still medical devices that require a prescription to use.
You should only wear contact lenses as directed, while under the care and supervision of a licensed eye care professional. If you improperly use contact lenses, eye problems such as corneal ulcers and loss of vision may result. Speak to your eye doctor if you experience any issues.
Are There Risks to Wearing Colored Contact Lenses?
If you choose to wear contact lenses without needing a corrective prescription, you are willingly assuming the same risks as someone who wears them to correct their vision. There is an increased risk of irritation and infection when compared with not wearing contact lenses. If you do not remove your lenses at night or clean them properly, you may have an increased risk of eye infection, and in rare cases, loss of vision.
You may experience burning, stinging, or discomfort while wearing contacts, and there is generally an adjustment period for all lens wearers. Always follow the usage replacement schedule outlined by your eye health professional, but never exceed one month of daily use per lens. Follow the manufacturer's usage instructions for the best results. See our guide on the Top 10 Problems with Contact Lenses and How to Prevent Them for more information.
Air Optix Colors are available in prescriptions that treat near-sightedness (myopia) and far-sightedness (hyperopia). If you need treatment for astigmatism and/or presbyopia, see our other Air Optix options. Say goodbye to dry eyes with Air Optix Plus Hydraglyde contact lenses for Astigmatism and Air Optix Plus Hydraglyde Multi-Focal lenses for presbyopia--both great (though non-colored) options for your corrective eyewear needs.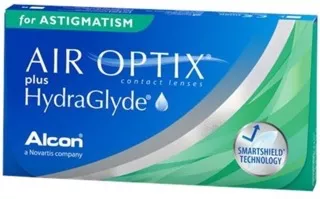 Air Optix HydraGlyde for Astigmatism 6 Pack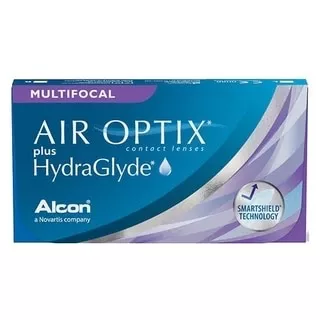 Air Optix HydraGlyde Multifocal 6 Pack
What Can My Eyes Look Like with Air Optix Colors?
Air Optix by Alcon is available in a wide array of colors. There a dozen shades for you to choose from, allowing you to try on every natural human eye color as easily as switching contacts. If you've always wanted to change from Blue eyes to Brown, Air Optix Colors makes it possible. If you're a fan of that Elizabeth Taylor look, Air Optix Colors come in Amethyst to give you that exotic gaze.
Choose from among Blue, Green, Gray, Pure Hazel, Honey, Turquoise, Amethyst, Brown, Brilliant Blue, Gemstone Green, Sterling Gray, and True Sapphire.
Plus, with their 3-in-1 Color Technology, these lenses blend their colors with your eye's own shade to create a signature look that's totally unique to you. Air Optix Colors also provides a comfortable fit with their SmartShield Technology. For an enhanced look in a comfortable and convenient monthly disposable contact lens, choose Air Optix colors!
Where is the Best Place to Find Colored Contact Lenses?
You might think you need to special order colored contact lenses through your eye care professional. Fortunately, that's not the case. All you need is a prescription and you can get corrective or non-corrective lenses in any color you choose. WebEyeCare carries the full line of Air Optix contact lenses at great prices. We even offer auto-ship options so that you'll never run out.
Best of all, Air Optix Colors are HSA and FSA eligible. That means that you don't have to worry about insurance coverege or billing of you use either a FSA or HSA to cover part of your medical expenses. We explain in more detail how the products we sell are eligible for payment from these accounts in our article All About FSA.