Wearing glasses doesn't have to be a drag. You're no longer limited to half a dozen frame styles and three basic colors carried by your eye doctor. With various chic and affordable options for both men and women, anyone can own a pair of glasses that reflects their own unique style. To help you get the perfect look, WebEyeCare has gathered up some how-to tips for choosing the best pair of frames for any sensibility!
What's Your Style?
Buying women's eyeglasses online isn't as tricky as it sounds. WebEyeCare carries high-end and designer frames in a variety of styles and colors. Make a statement and take ownership of your personal style by choosing oversized frames or truly stand out with BAVICI Annie frames. Whether you like to play it safe or shout your flair to the world, we have a selection just for you. We have tortoise patterns, plain black or brighter colors like bright plum or teal blue.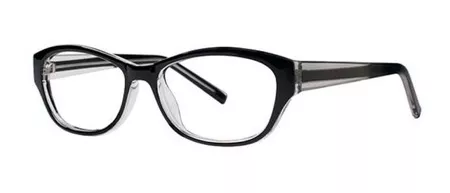 Amber
Of course, we also carry a variety of more basic frames to suit any budget. Now you can afford to buy extra pairs to leave at home, the office, your car, or even your mother's house. Having spare glasses is never a bad idea, especially if your current pair should break or become damaged. We make buying multiple pairs of basic frames affordable for everyone.
Choosing the Right Frame Shape
You might love oversized frames but realize that they just don't flatter you. Or, it could have taken you years to realize that those small round lenses didn't do your eyes any justice. Maybe you've just started wearing glasses and have no idea what this is all about, but even so, buying women's glasses online doesn't have to be daunting.
Glasses come in a few basic styles that you can categorize by shape. There are round, oval, square, rectangular, cat-eye, aviator, and oversized, just to name a few. Not all frame styles go optimally with all face shapes, which is why finding your face shape is an essential first step.
Eyeglasses are a fashion statement these days, and many people wear them even without vision problems. Sunglasses have long been a fashion accessory. Now that blue light blocking technology exists, many people wear prescriptionless lenses that filter out blue light and relieve digital eye strain associated with staring at a screen. This renewed interest in eye care has drastically expanded available options for everyone.
You're sure to find the perfect women's glasses for you no matter your age, favorite color, or facial shape.
What is My Face Shape?
It can be hard to determine your face shape, but having any idea is better than none. Narrowing it down to one or two options will help you avoid frames with the highest chance of being unflattering. So what are the basic face shapes, and how do you know which one you have?
Heart
A heart-shaped face is similar to a round face, but with a pointy chin instead of rounded. Heart-shaped facial structures are widest at the top, and usually have a Widow's Peak forming the heart's top. The softer angles of round or geometric lenses and the broader shape of rectangle frames can help balance your face shape. Browline, square, or oval frames can enhance the width of the upper half of your face and exaggerate it unnecessarily.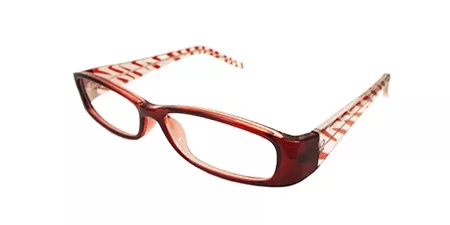 Admire
Seek out: Rectangular frames, round, geometric, aviator
Avoid: square, browline, oval
Oval
Oval-shaped faces are similar to rectangular ones, but without the squared draw and blocky forehead. Oval faces are somewhat longer than they are wide, and have soft edges throughout. If you have this facial type, you can wear a range of frame styles.
Oversized frames can drown your features if you have an oval face, so they're best avoided. Square and rectangular frames can help add some variety to the soft edges of your face.

Eight to Eighty Ramona
Seek Out: Square frames, rectangular, aviator, browline
Avoid: Oversized frames
Square
Square faces are as tall as they are wide, have a strong jawline, and significant forehead. Their cheekbones aren't very prominent or oblong, giving their entire face a squared-off appearance. Women with square faces typically want to balance out the sharp edges and soften their appearance, so avoiding square frames is a must.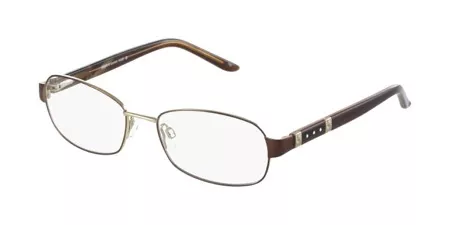 Sophia Loren M251
Seek Out: browline, cat's eye, oval-shaped frames, round
Avoid: rectangular, small
Round
Individuals with round faces have curved edges to the sides and their face, and their head is roughly as tall as it is wide. If you have a round face shape, your features will fit nicely into a circle placed over the center of your photo.
Large bold frames will make your face look smaller and draw attention to your eyes. Men with round faces generally gravitate toward square or rectangular frames because it adds some masculinity, but that look can work for women, as well.

Chloe CH0021OA
Seek out: Round lenses, square, and rectangular frames
Avoid: small, oval, and browline frames
Diamond
If you have wide cheekbones, but a smaller forehead and pointed chin, you might have a diamond-shaped face. Diamond faces look widest in the middle and taper to a point at both ends, and are roughly as wide as they are long.
Using frames with rounded edges can balance out the widest part of your face and fill out narrower cheekbones. Oval and round frames are a popular choice for women, while men often opt for browline frames to balance out their features.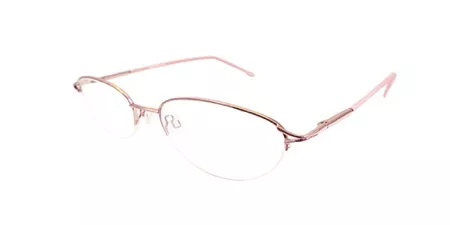 Allie
Seek Out: Oval, round frames, cat eye, browline
Avoid: Rectangle, square
Rectangular / Oblong
If you have an oblong face with a square jaw that roughly matches the width of your forehead, you might have a rectangular face. What's the difference between square and rectangle?
If your face is a little longer than it is wide, then you probably have rectangular features. Using large frames with tall lenses will help distract from the length of your face. Using narrow lenses will only draw attention to it.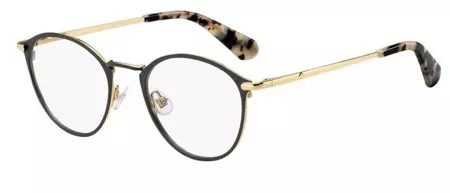 Kate Spade Jalyssa
Seek Out: Rounded lenses and frames, square, rectangle
Avoid: Narrow rectangular or oval lenses
Pear
Those with pear-shaped faces have a narrower forehead than jawline. This shape lends itself to browline, oval, or aviator frames, which can lend some width to the eye area and balance out your facial shape. You'll want to avoid square or round glasses that don't add any heft to your forehead area. To help balance the wider jaw with the smaller forehead, drawing attention to the upper face with large glasses can help.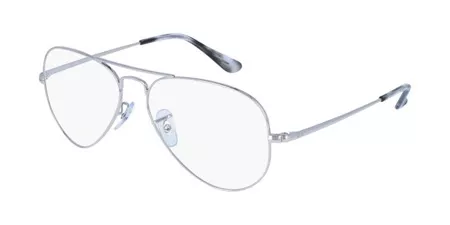 Ray-Ban RX6489
Seek out: Oval, browline, aviator-style frames
Avoid: square, round
Thick or Thin Frames?
If you don't mind drawing attention to the fact that you wear glasses, thick, bold frames are a great choice. Full frames are a good choice for anyone who does physical labor or runs the risk of banging into or dropping their glasses. Frameless lenses are great for composite and lightweight lenses, reading glasses, or someone who doesn't often expose their lenses to the elements.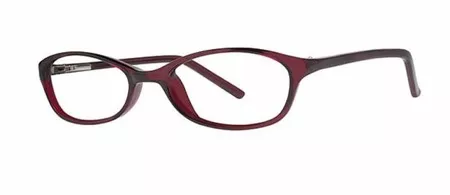 Certain
For instance, if you have small children, you probably want to invest in some sturdier frames to keep them safe from curious little fingers. However, even with full coverage frames, there are plenty of slender options to suit the most delicate features.
Now that you know your face shape and have chosen your favorite color, which style will you choose?