Contact lenses offer convenience that glasses simply can't compete with. They won't fog up or get dusty, and you won't accidentally sit on them. The contact lenses of days past had to be carefully washed and maintained, weren't all that comfortable and might hurt your eyes if you accidentally left them overnight. Advances in technology mean that dry eyes, cleaning solutions, and non-breathable lenses can become part of your past, and stay there!
Switching from glasses to contacts can seem daunting, but it's easy once you get the hang of it. Contact lenses are an excellent choice for many pastimes, including contact sports, running, or other activities where glasses can easily become damaged. If you're thinking about asking your eye care provider to help you switch over to wearing contacts, there's no reason to be overwhelmed. Check out our handy article, The Beginner's Guide to Wearing Contacts, for more information about how to get started.
As a premier online retailer of professional-grade eyewear, WebEyeCare has everything you need to pamper your eyes at the lowest prices!
Daily Disposable Contacts
| Contact Lens | Features | Shop Now |
| --- | --- | --- |
| Dailies Total1 | The Total1 lenses feature excellent oxygen transmissibility, Water Gradient & SmarTears Technology which keeps your eyes hydrated with blink-activated moisture. | Add to Cart |
| Acuvue | Acuvue Moist contacts are made with advanced LACREON technology for lasting hydration and offer one of the highest levels of UV protection. | Add to Cart |
| ProClear | Get dry eye relief with Proclear 1-Day lenses. Utilizing PC technology which retains water molecules and offering a high oxygen permeability, this | Add to Cart |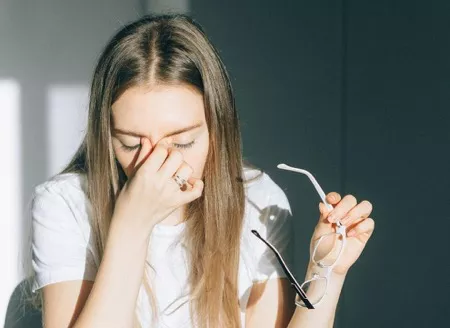 No cleaning solutions, no overnight storage, and no more irritation! Comfort, ease, and affordability can all be yours when you use daily contact lenses from WebEyeCare. Brands like Dailies Total1, Acuvue, and ProClear make contact lenses that you can wear for one day and then throw away. You'll never have to clean or soak your lenses, and there's no risk of contamination.
Daily wear contacts are perfect for children and frequent travelers. They're also a lifesaver for those who don't have a stable morning routine or have ever-changing schedules, like shift workers or first responders. Disposable daily contacts are the ideal way to switch over from glasses. They're easy to take on trips, and you'll never forget how many days you've worn them.
There's no need to worry about whether daily contacts have accumulated buildup that could harm your eyes or affect their function. They're perfect for delicate eyes, anyone who easily catches eye infections, or those who want to minimize the risk of contamination. For more about daily contact lenses, read our article Can I Buy Daily Contact Lenses Online?
Bi-Weekly Contact Lenses
Bi-weekly lenses are the perfect middle ground between monthly and daily lenses. You don't wear them long enough to accumulate residue or buildup, but they're more cost-effective than daily disposable lenses. You can wear them for up to two weeks but can also dispose of them as soon as weekly if you experience buildup or are prone to eye infections.
Disposable bi-weekly contacts come in many varieties, from toric lenses to treat astigmatism to presbyopia prescriptions. You can find colored lenses, extended range lenses, and lenses specially formulated for dry eyes.
Monthly Contact Lenses
| Contact Lens | Features | Shop Now |
| --- | --- | --- |
| Biofinity Toric 6 Pack | Made with Aquaform technology, Biofinity Toric contacts ensure excellent oxygen permeability and UV protection while keeping your eyes comfortable with their high water content. | Add to Cart |
| Air Optix Night & Day 6 Pack | Using SmartShield technology, the Air Optix Night & Day lenses keep deposits away maintain the lens moisture all-day while allowing your eyes to breath with their high oxygen content. | Add to Cart |
Using monthly lenses is by far the best way to save money with disposable contact lenses. You'll have to soak them every night and use contact solution, but if you're used to wearing contacts or have an impeccable routine, wearing monthly lenses is a breeze for you. If you want cheap contact lenses, monthly may be the option for you.
Monthly contact lenses come in every variety and style. They're the cheapest option for wearing contacts; a mere 24 lenses will last you an entire year for both eyes.
Toric Contact Lenses
| | | |
| --- | --- | --- |
| Acuvue Oasys for Astigmatism | Acuvue Oasys for Astigmatism boasts high UV protection & oxygen transmissibility while offering a smooth blinking experience. | Add to Cart |
| Biofinity Toric | Biofinity Toric's unique design and high oxygen transmissibility allow it to keep your eyes hydrated while still offering UV protection. | Add to Cart |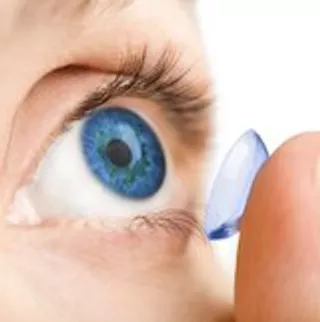 "Toric" simply means that you have to insert the lenses with the proper alignment for them to function correctly. There is usually some sort of marking on the contacts to help you know which way is right-side up. Toric lenses correct astigmatism, a fancy word for a cornea or lens curvature defect that causes blurred vision. Toric lenses correct this by adjusting the curve of your eye and allowing the light to refract correctly through the lens of your eye.
WebEyeCare has a great selection of toric contacts at affordable prices.
Acuvue Oasys for Astigmatism with HydraClear Plus technology (sometimes misspelled Acuvue Oasis) is a great option to correct your blurred vision. They have blink stabilization, UV protection, and all-day comfort thanks to HydraClear Plus.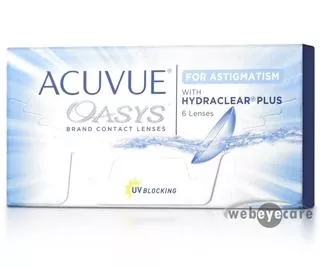 Acuvue Oasys for Astigmatism 6 Pack
Check out our great selection of toric lenses today!
Multifocal contacts are similar to bifocal eyeglasses. If you need different prescription strengths at different distances, multifocal lenses are exactly what the doctor ordered. If your eye care provider recommended multifocal lenses, we have the same selection as any eye care office, with affordable options and convenient auto-ship options.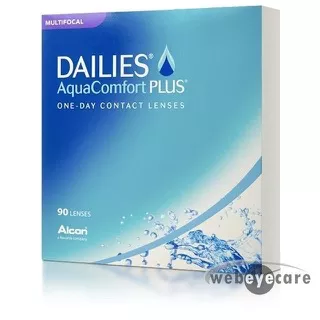 Available in a wide range of parameters, this daily lens requires no cleaning or maintenance. Boasting high oxygen permeability, UV protection, and blink-activated technology these are a perfect daily disposable lens for presbyopia patients.
Add to Cart
Affordable Colored Contacts
Do you like to look exotic, think your eye color is boring, or just want to spice things up? Colored contact lenses may be just the thing to add excitement to your life! While a bit more expensive than merely prescription options, colored and color-blended contacts are perfect for anyone wanting an extra bit of flair. Colored contacts aren't just for cosplayers anymore—anyone who wears daily prescription lenses can take advantage of the various colors available. Get your own unique color look using tinted prescription contact lenses.
Extended Range Contacts at Great Prices
| | | |
| --- | --- | --- |
| | | |
| Proclear Multifocal's extended range contacts are made with Aquaform Technology providing you with excellent moisture retention, enhanced comfort, a wide reading zone, and UV protection. | With Biofinity XR, you'll enjoy an extended range of parameters utilizing Aquaform Technology that provide enhanced clarity, high oxygen permeability, & UV protection while still delivering a smooth surface & rounded edge design making blinking a seamless experience. | Biofinity Toric XR lenses offer stable & consistent vision, high oxygen permeability, & UV protection while providing a high water content allowing |
| Proclear Multifocal XR 6 Pack | Biofinity XR 6 Pack | Biofinity Toric XR 6 Pack |
| Add to Cart | Add to Cart | Add to Cart |
If you have a more powerful eyewear prescription, you might think that you can only wear glasses. But more than one brand makes lenses for eyes that fall outside the usual range. If you need an extended range contact lens, we have several excellent options for you:
Discount Contacts For Dry Eyes
| | | |
| --- | --- | --- |
| | | |
| Acuvue Oasys 1-Day 90 Pack | Dailies AquaComfort Plus | 1-Day Acuvue Moist |
| Featuring HydraLuxe technology, these daily disposable Acuvue contacts offer high oxygen permeability, a tear infused design, and one of the highest levels of UV protection. Enjoy clear vision with this lens made from allergy-friendly material. | Resistant to deposits, DAILIES AquaComfort boasts a triple-action moisture technology meaning your eyes will be hydrated all-day. The thin edge design and blink activated technology offer exceptional comfort for a daily disposable lens. | Made with you in mind, the daily Acuvue Moist lenses feature LACREON technology which embeds a moisture-rich wetting agent directly into the lens material, providing long-lasting comfort throughout the day. You'll also enjoy UV protection and a smooth lens surface for a superior wear experience. |
| Add to Cart | Add to Cart | Add to Cart |
| | |
| --- | --- |
| | |
| Clariti 1-Day 30 Pack | Air Optix HydraGlyde Multifocal 6 Pack |
| CooperVision's Clariti lenses are made from an allergy-friendly silicone hydrogel material using WetLoc technology. Offering UV protection and optimal visual acuity, these daily wear contacts are a perfect vision wear solution. | Air Optix HydraGlyde is made using the HydraGlyde Moisture Matrix and features Smooth Surface, Balanced Progressive, and SmartShield technologies. Experience a monthly wear lens that offer high oxygen transmissibility today. |
| Add to Cart | Add to Cart |
Moisture and comfort have been ongoing concerns for contact-wearers ever since contact lenses were invented. Nobody likes using eye drops on the hour. Dry, itchy eyes are a terrible price to pay for the convenience of wearing contacts, so manufacturers have improved their formulas with fantastic results.
Several contact lens brands and styles are specifically designed to moisturize your eyes and prevent dryness. Contact lens brands have pioneered water-containing substances like hydrogel and lenses that release moistening compounds throughout the day for the ultimate comfort experience.
Acuvue Oasys 1-Day with HydraLuxe offers a significant improvement over the old formula, 1-Day Acuvue Moist. HydraLuxe is a supremely comfortable, enhanced-moisture formula that offers all-day comfort and prevents red, itchy eyes.
Dailies AquaComfort Plus provides all-day comfort in their daily disposable contacts. They release a unique moisture-releasing component with every blink, giving you long-lasting comfort throughout the day.
1-Day Acuvue Moist is another excellent brand, using LACREON® technology to replicate the effect of human tears. These lenses are commonly prescribed to people who suffer from dry eyes. If you need astigmatism correction, see 1-Day Acuvue Moist for Astigmatism.
Clariti 1-Day 30 Pack is another contact lens frequently prescribed for dry-eyed contact wearers. These lenses utilize AquaGen technology making them more comfortable to wear. With thin rounded edges, friction during wear is minimized keeping your eye hydrated and oxygenated.
Air Optix plus HydraGlyde is another innovative brand providing extra moisture options and superior all-day comfort. If your eye doctor prescribed these monthly disposable lenses, we offer them at an affordable price.
FSA and HSA Eligibility
FSA stands for Flexible Spending Account, while HSA stands for Health Savings Account. Whether or not your insurance coverage is the best, and no matter your deductible, FSAs and HSAs are great to have. Since the contributions are pre-tax, having an FSA can lower the amount of taxes you pay, while still giving you money to purchase qualifying medical expenses.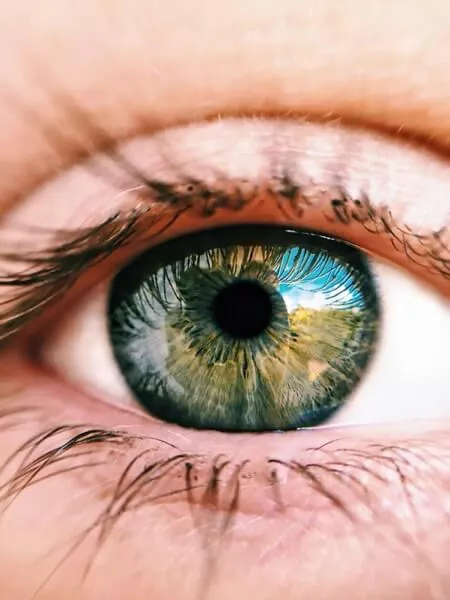 For a more thorough breakdown of FSA and HSAs and how to use them to buy prescription eyewear, read our blog post All About FSA. The good news is that FSA accounts cover most prescription contacts and eyeglasses, and you can use your FSA debit card to purchase contacts and glasses from our store. You don't have to worry about your vision insurance and whether it covers your Rx when you use your FSA to shop at WebEyeCare!
The Benefits of Autoship for Your Contact Lenses
It's hard to stay on top of reordering everything you need. Amazon's Subscribe-and-Save is great because you get the products you regularly use shipped straight to your door, without you having to reorder each time. WebEyeCare offers the same convenience with all of our contact lenses. Our Auto-Ship program saves you time and money, shipping your next batch of lenses to you before you run out.
Whether you use daily, weekly or bi-weekly, monthly, or extended-wear lenses, nobody likes remembering to order new lenses on time. Don't ever run out again when you sign up for our subscription program--and save money in the process!
All contact subscription orders get you a 5-15% discount! Don't worry, you can change or cancel your orders and frequency at any time. Plus, we'll send you two reminder emails before shipment, giving you plenty of time to make adjustments before the contacts ship out.
Online Eye Exam or Online Vision Test?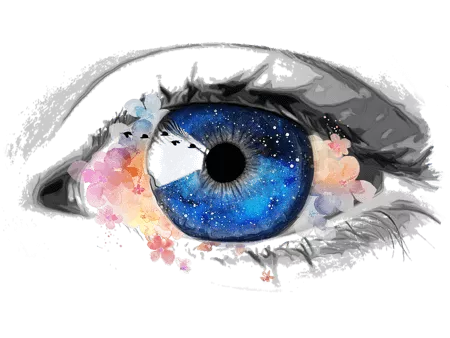 While there's no such thing as an online eye exam, we do offer an online vision test. What's the difference? A comprehensive eye exam must occur in person so that an eye care professional can physically examine your eye and make sure you aren't developing any illnesses.
You should have your eyes professionally examined at least once every two years to be sure you're staying on top of your eye health. An online vision test is for informational purposes only.
So What's an Online Vision Test?
If your glasses or contact lens prescription has recently lapsed, you can take our online vision test to get it renewed. You can test your vision in the safety, privacy, and comfort of your home. We offer two versions of the online vision test — one designed for contact wearers and one for those who wear glasses. To complete each test, just look at a series of images, and cover either your right or left eye when prompted.
Just tell the application what you can and can't see, and let us do the rest. A licensed ophthalmologist will review your results and issue a renewed prescription within two business days. For fast, easy, and affordable online eyewear prescription renewal, WebEyeCare has you covered. Please see your eye doctor for your other eye health needs.
Can I Get a New Prescription with the Online Vision Test?
Online vision tests are only for those renewing their previous vision Rx. You must have a corrective eyewear prescription already to use the test. These eye tests are just a way to assess visual acuity, IF you don't have any health problems that affect your eyes.
A comprehensive eye exam can diagnose and assess health issues that a vision test can't pick up. Our online vision test just confirms your current prescription, making sure it hasn't changed much since your last evaluation.
Need a Break from Contacts?
It's never a bad idea to have a pair or two of glasses as a backup. You might lose contact unexpectedly or simply not have time to put them in as you rush out your door for work. As all veteran contact wearers know, occasionally your eyes get irritated, and you want to give them a break. If you don't want to risk infection, you'll let them air out for a day or two now and then.
With modern lenses and their increased breathability, this problem is less common. Still, it's never a good idea to go anywhere without a backup pair of glasses, especially if you need an eyewear prescription to drive.
Check out our fantastic selection of lightweight, stylish, and affordable frames. We've even written some informative articles to help you choose the most flattering glasses frames for your facial shape or stay up to date with what's trendy in the realm of women's glasses fashion.
Frequently Asked Questions About Discount Contact Lenses
Are discount contact lenses safe to use?
While everyone loves a good discount. It is important that you prioritize your health. Always buy from trusted retailers. WebEyeCare offers the best prices with genuine products sourced from trusted manufacturers.
How much money can I save by purchasing discount contact lenses?
By buying contact at discounts can help you save anywhere from 15% to 50%. This comes up to $10-$50 per month.
Can I purchase discount contact lenses online?
You can visit our website for the best prices on your favorite contacts. We offer a wide range of contacts with amazing discounts so you can save money while ensuring the quality and authenticity of products.
Are there any risks associated with buying discount contact lenses?
Common risks of buying discounted contact lenses from untrusted websites include
receiving counterfeit
expired lenses
poor quality materials
incorrect prescription
lack of proper customer support
Always buy your contacts from trusted websites such as WebEyeCare.
What should I look for when buying discount contact lenses?
When buying discount contact lenses, it's important to consider several factors:
Lens authenticity
Quality
Prescription; Always double-check that you are purchasing the correct prescription lenses
Use a reputable retailer such as WebEyeCare
Follow lens safety standards
Check customer reviews
Can I get discount contact lenses with a prescription?
Yes, you can get discount contact lenses with a prescription. When you are purchasing it is important that you provide a valid prescription to ensure that you are ordering the correct lenses for you.
Are there any restrictions on the types of contact lenses available at a discount?
The availability of discounts depends on the type of lenses and offers available. We recommend you check our website for coupons that you can use on your purchase to save money.
Can I find discount contact lenses for astigmatism or multifocal lenses?
Yes, you can find discount contact lenses for astigmatism or multifocal needs. WebEyeCare offers a range of brands for these eye conditions, including Acuvue, Biofinity, Air Optix, and Proclear. These brands offer discounted prices on their toric (astigmatism) and multifocal contact lenses, providing affordable options for those with specific vision requirements.
How do I know if the discount contact lenses are genuine and not counterfeit?
It's important to do your research before making any online purchase and contact lenses are no exception. Here are a few things to look for to ensure you're getting branded contact lenses:
Authorized retailers such as WebEyeCare
Packaging with proper labeling
Pricing which requires a minimum box quantity to be purchased
Prescription verification. The retailer should request a copy of your prescription to ensure you get the correct lenses
Customer reviews
Are there any expiration dates or limitations on the use of discount contact lenses?
Yes, all contacts have an expiration date. It is important that you check the expiration date and follow the user guideline recommended by the manufacturer. Using expired lenses may lead to serious eye infections.